Suriname's riverside capital combines a historic city centre noted for its distinctive wooden architecture with a vibrant dining-out scene.
Paramaribo is not only the capital of Suriname, it is also the country's largest population centre and its main transport hub. Often referred to as Parbo, it's a safe, welcoming and decidedly beguiling city, steeped in history and strong on character. Founded in the early 17th century on the west bank of the Suriname River, the inner city is renowned for its unique and thoroughly attractive Dutch-Creole wooden architecture, which earned it recognition as a UNESCO World Heritage Site in 2002. Yet despite this Dutch architectural heritage, Paramaribo today is a strikingly multi-ethnic city, one whose diverse population of 250,000 primarily reflects successive waves of forced and voluntary migration from Europe, West Africa, Indonesia, India and China, but also includes a small number of indigenous Amerindians. The Surinamese capital is also justifiably proud of its reputation for religious and ethnic tolerance, epitomised by its grandest mosque and oldest synagogue rubbing shoulders on Keizer Straat, a block west of a historic Dutch Reformed Church.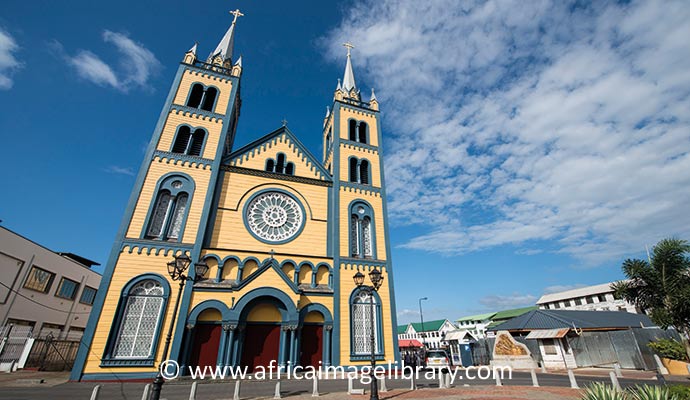 Be enchanted by the Dutch-Creole architecture of the Historic Inner City of Paramaribo © Ariadne Van Zandbergen
It is fortunate that Paramaribo is such a gem of a city, as anybody planning a trip to Suriname will quickly recognise that almost all the country's roads converge on the capital, as does pretty much every last bus service, domestic flight and organised tour. As a result, visitors tend to end up planning around several one- and twonight stays in Paramaribo between upcountry excursions. This, it must be said, is no hardship. The UNESCO-endorsed inner city warrants a full day's exploration, starting with historic Fort Zeelandia and its excellent national museum. Further afield, Paramaribo offers rich pickings for day trippers: a leisurely stroll through the forested Peperpot Nature Park to look for colourful parrots and toucans, a relaxed cycling excursion to historic Fort Nieuw Amsterdam and the old plantations of Commewijne, a boat trip in search of the dolphins and marine birds that frequent the mouth of the Suriname River, an all-day organised tour to beautiful Brownsberg Nature Park or a bus trip to Lelydorp's underrated Neotropical Butterfly Park. And after the day's adventures, it is a genuine pleasure to while away the balmy tropical evening over a few chilled drinks on the breezy riverside Waterkant, or to work through a few of the city's countless eateries, which range from cheap and cheerful Javan-style warungs and Indian-style roti shops to a surprisingly cosmopolitan but still mostly affordable selection of smarter restaurants.