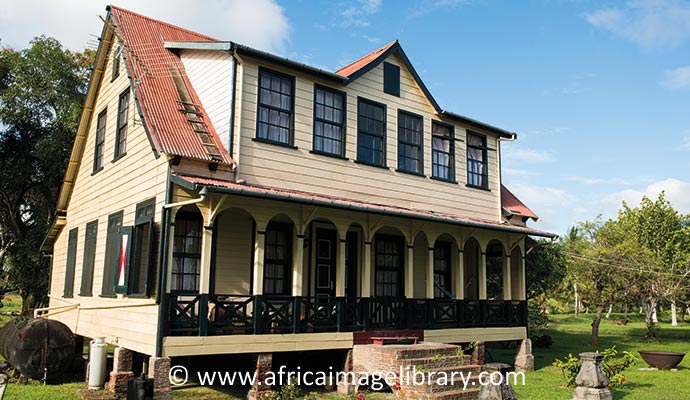 The Commewijne Plantation Loop covers a 60km road that runs past several of the more popular sites © Ariadne Van Zandbergen
Cycle or walk through Peperpot Nature Park, with its wealth of colourful tropical birds, then explore the 18th-century riverfront fort at Nieuw Amsterdam.
This section covers a 60km road loop that runs past several of the more popular and worthwhile sites in Commewijne District, notably Peperpot Nature Park and Fort Nieuw Amsterdam. Although the sites included here are thematically diverse, and any one of them could be visited without the others, it seems practical to group them together for logistical reasons. The main transport hub along the plantation loop is Meerzorg, a small town on the east bank of the Suriname River directly opposite Paramaribo, and linked to it by the Wijdenbosch Bridge and regular taxiboats. From Wijdenbosch Bridge, the road loop runs west for about 4km through Meerzorg to a major intersection close to the entrance of Peperpot, then north for 15km to the district capital Nieuw Amsterdam, site of the eponymous fort. From here, it follows the Commewijne River east for around 15km to Alkmaar, offering access to the Mariënburg and Katwijk plantations (as well as a jetty from where you can cross to the north bank), then runs south to rejoin the main road between Meerzorg and Albina at Tamanredjo Junction.