The Ruins of Trinidad and Jesús are where the 'Lost Paradise' of the Jesuit-Guaraní Reductions (1609–1768) can be dreamed about, with the inspiration of so many angels carved in stone. This is the land which has inspired so many hundreds of writers all over the world to produce books and articles, plays and films.
Trinidad
Trinidad is arguably the most evocative of Paraguay's Jesuit sites © Matyas Rehak, Shutterstock
Trinidad is the most evocative of the ruined Jesuit-Guaraní sites due to its wonderful surviving stone carvings, and the magical isolation of the site. One of the advantages of the Paraguayan Mission route being less frequented than the Argentinian and Brazilian Reductions is that it leaves more room to dream and less room for tourist tat. Brazil's tourist infrastructure in Missões is very tasteful, and Argentina's is quite pleasant, but there is nothing quite like the experience of standing alone on the brink of Trinidad's vast plaza, and then setting off to explore. You begin by walking through the arched colonnades of the casas de indios and crossing the huge expanse of grass towards the big church on the far side; then make your way up the nave, past the souls in the flames of purgatory on your right where the Guaraní kept night watch over their dead, past the great pulpit of the four evangelists on the left where sermons were preached in the native tongue, and into the sanctuary. There, high above your head, but clearly discernible, 46 angels play the music of heaven, just as the Guaraní had played the same instruments in the church.
Jesús
The ruins have a lovely setting, being on higher ground, with vistas of palm trees framed through the windows, and there is something almost Cistercian about their isolation and austerity. There are about 100 visitors a week to the Ruins at Jesús – around a quarter of the number that visit Trinidad.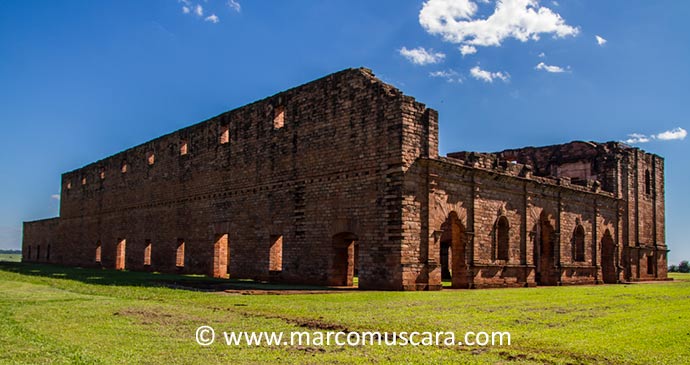 The Ruins of Jesús receive around 100 visitors a week © Marco Muscarà
The church and the college are the principal remains in this peaceful spot with its dramatic columns and vistas, though you can also pick out something of the whole layout of the town, according to the typical design of a Reduction. There is a plan on your left as you enter, mapping out the cemetery (to the left of the church), the orchard (behind it), and priests' house, college and workshops (to the right). The casas de indios were arranged in rows around the plaza, which no longer exists as a plaza, but is the long grassy space you cross before reaching the church, where you can rest halfway in the shade of some trees.