Find moving wooden statues of Christ and the saints in their original 18th-century buildings at these Jesuit Reductions.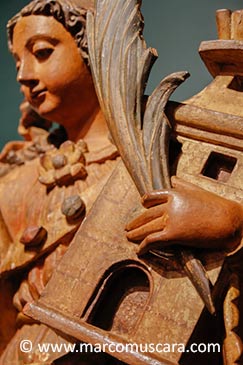 Stretches of cream sand extend before your eyes, depending on the river level. You are now in the famous Misiones departamento, or the mission territory of the Jesuit Reductions – which also continue into the next departamento of Itapúa. The basic rule is: museums in Misiones, ruins in Itapúa. These two departamentos are Paraguay's top tourist attractions – the land of what is often called 'The Lost Paradise' or 'The Forgotten Arcadia'. Given their distance from Asunción, you need a minimum of two or three days to visit them, and five or six days to do them justice.
There are four Jesuit Reductions in this departamento: San Ignacio, Santa María de Fe, Santa Rosa and Santiago. There were once 30 such towns in the most developed, settled period of the Reductions, and they were known as the Treinta Pueblos (Thirty Towns). Founded on both banks of the Río Paraná and both banks of the Río Uruguay, today they stretch from Paraguay through Argentina and into Brazil.
On the way to them you pass through some other attractive towns that were not Reductions, though they fell within the lands of the old Reductions and began as outposts or chapels on the estancias. Later they developed into urban centres in their own right. Of these, Villa Florida, with its beaches on the river, is a Paraguayan holiday town; San Miguel, with its woollen craft, is a popular tourist stop; and San Juan is the capital of the departamento.
(Photo: Santa Barbara with her tower at the Museo Diocesano de Artes Jesuíticas in Santa María de Fe © Marco Muscarà)