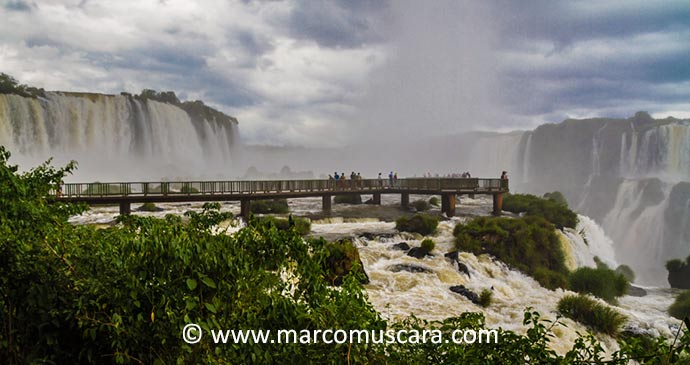 The Iguazú Falls really are one of the wonders of the world © Marco Muscarà
Breathtaking excitement and overwhelming beauty are found at these falls, an unmissable wonder of the world.
The Iguazú Falls are one of the wonders of the world. Going to see a waterfall might not sound like a full day's occupation, but that is the very minimum that you need for Iguazú, and two days is still not enough for an exhaustive visit. The size, power and variety of these falls is breathtaking. They are in the region known as the Three Frontiers, where Paraguay, Argentina and Brazil meet, but the falls today are just outside Paraguayan territory, forming the border between Brazil and Argentina.
Few visitors to Paraguay want to go home without seeing them. In the time of the President Dr Francia, there were border disputes over Misiones Argentina, but Paraguayan claims were ended by the disaster of the Triple Alliance War. Paraguayans still, however, feel a certain affinity with this territory, especially since the falls have a Guaraní name. Guaraní is still spoken as the mother tongue in Paraguay while it has been virtually lost in Argentina and Brazil as a living language, with only place names surviving.
Most people who go from Paraguay to the Iguazú Falls (or las Cataratas as everyone calls them) travel to the Paraguayan border city of Ciudad del Este and then cross over to Foz do Iguaçu in Brazil. This is the most direct route.