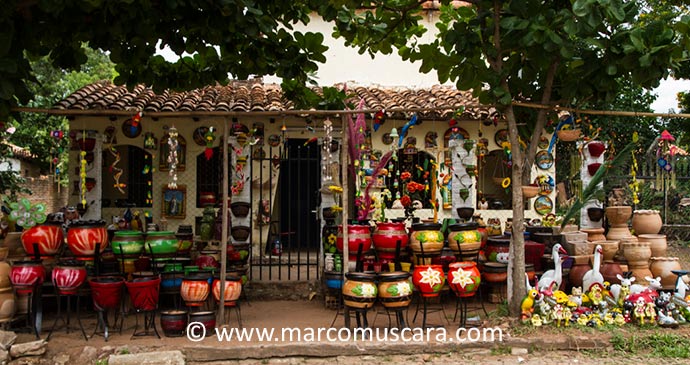 Areguá is the Paraguayan capital of pottery © Marco Muscarà
An attractive lakeside town in the Circuito de Oro, Areguá is home to potters, artists and novelists.
Areguá must be one of the best towns to visit in a Circuito de Oro tour. It is one of three craft towns specialising in ceramics, and is the nearest to Asunción. (The others are Itá and Tobatí.) It is a lovely town, marked by an elegant church at the top of the hill and splendid colonial-type houses on the Avenida Estigarribia leading up to it. It is increasingly regarded as a prestige town, bursting with little art galleries, that merits the preservation of its architecture. A number of artists and writers have made their home here, including the distinguished novelist Gabriel Casaccia, whose striking novel La Babosa is set in the town.
There are streets lined with craft shops selling ceramics, with much in the way of attractive, large, unglazed flowerpots and pretty small candleholders with holes for the light to shine through. However, there is also a lot of moulded clay work that is less pleasing to European and North American taste, such as garden gnomes, along with frogs, tortoises, swans and toadstools. Another variety of mass-produced moulded clay is their typical line in crib figures, which come out in force in the pre-Christmas period, although a few artists are now beginning to make original hand-formed figures.
The chief founder of the pottery tradition was Ricardo Pérez, a late 19th-century potter who lived in the southern Chaco, and helped General Bernardino Caballero (war hero of the Triple Alliance War and founder of the Colorado party) to escape his enemies by hiding him in his big kiln and faking a fire inside. In gratitude, Caballero gave him territory in Areguá to establish a bigger pottery business.
The fiesta patronal (feast day of the town's patron saint) is on 2 February, the feast of Candlemas. Throughout February they have now begun to hold a fair for mangoes and food produced from mangoes. Another tourist attraction is the Expo Frutilla, or Strawberry Fair, mid August to the end of September, though strawberries are plentifully available for sale before that, from July or even the end of June. The strawberry stalls are to be found principally along the road leading to Ypacaraí, where there is a compañía of Aregua, called Estanzuela, 2km from the town centre.