The setting of Surama is truly idyllic, the guides are virtual walking jungle encyclopaedias and the villagers welcome visitors warmly.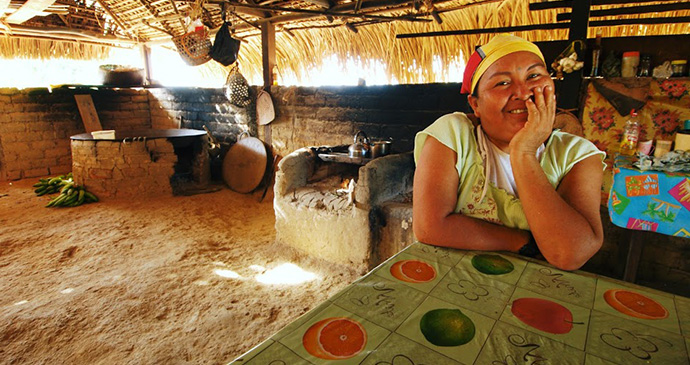 Surama, the award-winning community tourism pioneer, is based in a beautiful savannah setting © Courtesy of Wilderness Explorers
Surama snapshot: 13km2 of open savannah lands surrounded by the jungle-covered Pakaraima Mountains. A small Amerindian village where the 300-odd Makushi inhabitants rely mainly on farming, hunting and fishing for sustenance and have lifestyles and customs that have changed little in many generations. Most homes are simple buildings of clay brick walls and thatched roofs. Locals manoeuvre through the surrounding jungle with an innate sense of direction that borders on the uncanny. Most trees and plants have a use, be it as a source of fresh water, medicine for snakebites, or food. Howler monkeys often beat roosters in announcing the start of a new day, macaws screech in seeming disapproval, packs of peccaries roam the forest, the river is teeming with piranha, and jaguar have been known to steal into the village at night and kill a horse.
One might expect Surama to be just another ecotourism cliché, little more than local guides offering mountain treks, jungle walks and dugout canoe trips in a remote village where the culture is preserved and they put on a display for the sake of visitors' dollars. Surama could indeed be called an ecotourism destination; there is even an ecolodge in the village. It's remote, plus there's a mountain to climb, jungles to explore and dugout canoes on the river. The word 'sustainable' is also a popular way to describe the activities here, but Surama's charm comes with its own unpretentiousness.
The guides are genuine and their knowledge of the jungle stems from the fact that they rely on it for survival in their daily lives, not because they studied it in a book. The meals are made with local vegetables and meats because that's what's available, not because they are trying to fulfil the expectations of foreigners. And the ecotourism possibilities of their village and surroundings were initially explored to create a source of income close to home; too many of the men were leaving in search of jobs at mining or logging camps elsewhere in Guyana and Brazil.
Surama's location just south of the Iwokrama International Centre for Rainforest Conservation and Development (they share a border along the Burro Burro River) and north of Rock View Lodge helped to initially attract visitors to the village. Today Surama has become the award-winning role model for community-based ecotourism in Guyana; all other villages building a tourism product look to Surama as their guide.