Gardens flourish, cattle graze freely, flowering and fruit trees abound.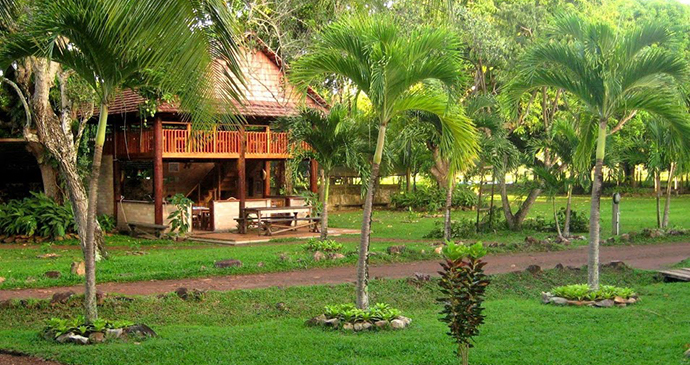 The oasis of Rock View Lodge provides access to good deciduous forest and savannah birding © Courtesy of Wilderness Explorers
In many ways, Rock View Lodge serves as the main hub for tourism in the North Rupununi. Just over 1km off the main road, Rock View has a central location between Annai and Rupertee villages. The lodge is located on the edge of the savanna, where the Pakaraima Mountain foothills begin to rise to the north. The location is idyllic and the accommodation has been built to match.
The original Rock View ranch house was built in the 1950s with plans to host weary cowboys and ranchers involved in moving cattle from the Rupununi to the coast. In the late 1960s another family took it over and began raising cattle. Rock View went through an early phase of glory when the Dakota flight would land on the nearby airstrip. The Dakota flight came in from the coast to pick up beef, tobacco and peanuts, and people from miles around would gather at the Dakota bar to gossip and talk about political problems that may have helped fuel the Rupununi Uprising in 1969.
In 1992, Colin Edwards, a gregarious Englishman with a vision, bought Rock View in order to fulfil a dream of building an environmentally friendly lodge and working farm that also benefits surrounding communities. Colin started with arid and rundown ranching lands and has created an oasis in the savanna. Gardens flourish, cattle graze freely, flowering and fruit trees abound and numerous jobs have been created for local community members.