Iwokrama covers nearly one million acres (371,000ha) of pristine Guiana Shield rainforest that serves as a living laboratory for scientific research, ecotourism, and sustainable tropical forest management.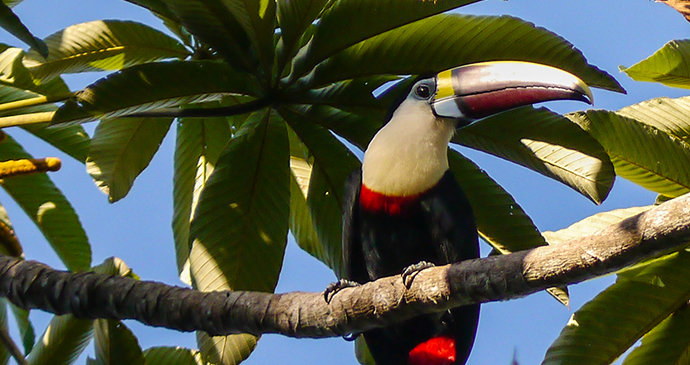 Iwokrama is known for its incredible biodiversity © M M, Wikimedia Commons
Located in the heart of Guyana, the Iwokrama Forest has an amazing cross-section of Guyana's biodiversity, including 1,500 species of flora, 200 mammals, 500 birds, 420 fish and 150 species of reptiles and amphibians. The Government of Guyana and the Commonwealth Secretariat established Iwokrama International Centre for Rainforest Conservation and Development in 1996 under a joint mandate to manage the Iwokrama forest 'in a manner that will lead to lasting ecological, economic and social benefits to the people of Guyana and to the world in general.'
Since then, Iwokrama has become internationally recognised for its unique and ambitious conservation and development practices that seek to show that rainforest resources can be used sustainably to generate economic benefits for communities through traditional and scientific resource-based knowledge and management.
Iwokrama is home to some of the Americas' and world's largest species – black caiman (alligator), capybara (rodent), arapaima (freshwater fish), anaconda (snake), giant anteater, giant river otter, giant river turtle (freshwater turtle), bushmaster (pit viper), false vampire bat (South America's largest bat), harpy eagle (the Americas' largest eagle) and jaguar (largest cat in the Western Hemisphere). Of course all these species are living in some very dense forest and can be hard to spot, but there are a number of good activities to increase visitors' chances.
Any visit should include a walk on some of the nature trails, a night-time boat ride to spot caiman and other nocturnal wildlife, a trip up the 1,000ft-high Turtle Mountain and a boat ride to Kurupukari Falls to see ancient petroglyphs. Lodging at the beautiful River Lodge goes without saying, but the more adventurous should spend at least one night at one of the hammock camps.