Giving something back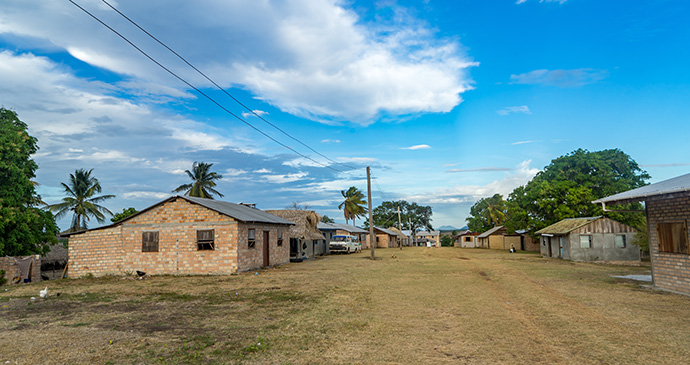 Talking with locals when spending time in Amerindian villages is the best way to get a true understanding for the country © Gail Johnson, Shutterstock
The fact that Guyana is an English-speaking country makes interactions with the locals (for other English speakers) an added benefit to any trip. Guyanese people are friendly, educated and always have an opinion so don't be afraid to strike up a conversation. Talking with locals is the best way to get a true understanding for the country. Taxi drivers are particularly keen to offer up their input on any subject from politics to food.
In Amerindian communities, the people are often initially much more shy and quiet, but once you've spent some time with them they usually open up and you'll find it easy to coax stories from them that offer insights into their culture. Whenever possible support small-scale shops and businesses, and avoid imported food and other products. This is the best way to ensure that your money is going to the local grassroots community, where it is needed most. Buy crafts made locally and try to get the history on a product whenever possible to make sure you are supporting a sustainable project. It is always polite to ask permission before taking photographs of locals. For travellers who are looking for ways to give something back to Guyana, there are a variety of options. Basic necessities such as clothes, children's toys, school supplies and basic over-the-counter medical supplies are always needed, either for the remote interior communities or for locations along the coast. When booking a trip through any tour operator, they will be able to assist you in the best way of dispersing any donation items you bring to Guyana. For those with more specialised skills who like to combine their holiday with a stint of volunteering, there are a few projects in Guyana that are always looking for assistance.
Remote Area Medical (RAM) During the 15 years Stan Brock spent in southern Guyana he saw how limited medical facilities for the villages of the area were. With this in mind, Remote Area Medical Volunteer Corps was started as a volunteer airborne relief corps that provides free health care, dental care, eye care, veterinary services and technical and educational assistance to remote areas throughout the world. In Guyana, RAM works though an air ambulance service based in Lethem that serves some 25 of Guyana's most remote and inaccessible villages and a cervical cancer team that provides women's health services in Guyana. As RAM relies entirely on volunteers, help is always needed.
Iwokrama International Centre for Rain Forest Conservation and Development For those with a scientific background, Iwokrama always has research projects with space for volunteers.
Karanambu Trust The Karanambu Trust has a rotating list of volunteer opportunities that range from otter keeper to researcher. The charity works to ensure the sustainable use of the Karanambu Wetlands through wildlife and habitat conservation, research and education in partnership with local communities
Rupununi Learners Foundation Based at the Caiman House in Yupukari, the Rupununi Learners Foundation seeks to improve the quality of life for the indigenous population of the Rupununi, by enhancing literacy, access to information and preserving local customs. Volunteers are needed with skills in arts and crafts, videography, home furnishings design, librarianship, public health, teaching, tourism, wildlife research and a host of other areas.