Although Georgetown is often merely the gateway to the wilderness of the jungle and the savannah, other visitors, especially the returning Guyanese, are increasingly drawn to the city in its own right.
In the world of tourism, Georgetown could be considered a tough sell. Guyana's slightly rundown capital city of 240,000 people (350,000 with surrounding towns/villages) was once touted as the 'Garden City of the Caribbean', but that name has been fading since the British pulled up their imperialistic stakes (and maintenance money) in the 1960s.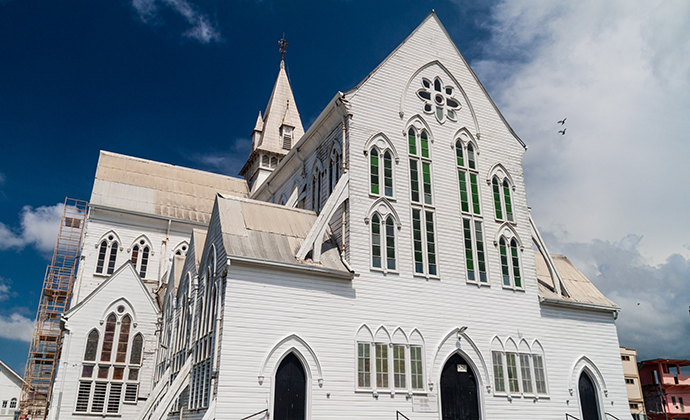 Even though there are more than 200 species of bird found within the capital and still enough green patches, flowering plants and fruit bearing trees to make the most sceptical see the origins of the city's nickname, when Georgetown appears in Guyana's tourism guides and brochures amongst conglomerations of nature shots and worn-out adjectives flaunting this 'Paradise for Nature Lovers', the city does not come off as quite so appealing.
But why make travel plans based on old epithets? Or visit cities for nature? Guyana's interior is the draw for most visitors and Georgetown is the gateway, a final dose of hurried civilisation before the vast emptiness of the jungle and savanna.
British and Dutch heritage and a melting pot of lively English-speaking locals make the city decidedly more Caribbean than Latin. Fairytale-like crumbling colonial buildings, both lovingly restored and barely standing, dominate the town's architecture. Churches stand next to Hindu temples and mosques. Minibuses share the streets with cows, horse-drawn carts and the speeding cars that are at odds with the laidback pace of life.
And with its thriving markets, a few decent museums, some interesting new restaurants, a nearby winery retreat and even a handful of manatees, Georgetown certainly merits a day or two of your time.