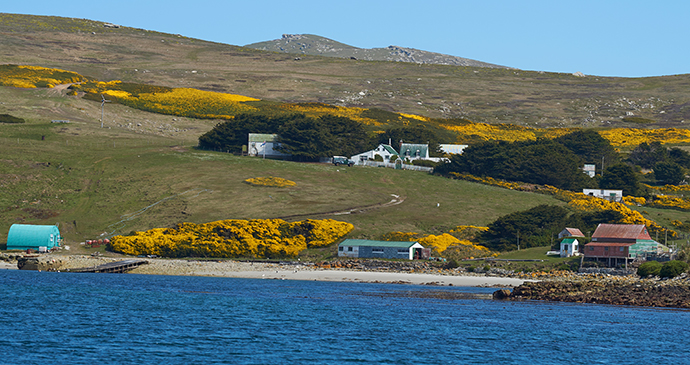 The area around the small settlement is at its most colourful in springtime © JeremyRichards, Shutterstock
With its sheltered cove, rugged cliffs, and the opportunity to sit in the tussac grass watching black-browed albatrosses gliding by, this feels like a very special place.
West Point Island, owned by Roddy and Lily Napier and run as a farm, is not a big island. Covering 3,630 acres, it is five miles long and just under two miles at its widest point. The population is just two, plus Bosun the dog. Despite its size, there is more than enough for walkers and naturalists to see here – whether in a few hours on a stop from a visiting cruise ship, or for a full day when visiting from nearby Carcass Island. The island is renowned for its huge colonies of black-browed albatrosses on its western side, on some of the most spectacular cliffs in the archipelago. The area around the small settlement, where the island's buildings are, is at its most colourful in springtime when the densely flowered gorse is in bloom. Sheep are still kept here, but tourism is the source of most of its income. The highest point on the island is Cliff Mountain at 1,250ft (381m), while nearby Mount Misery stands at 1,211ft (369m) above the albatross cliffs. The channel, located at the narrowest point between West Falkland and West Point, is Woolly Gut, which is strongly tidal before it opens out into West Point Pass to the southwest. The name 'woolly' refers to a sudden down-draught from the nearby cliffs, which in days of sail was a great threat to the safety of the boat.