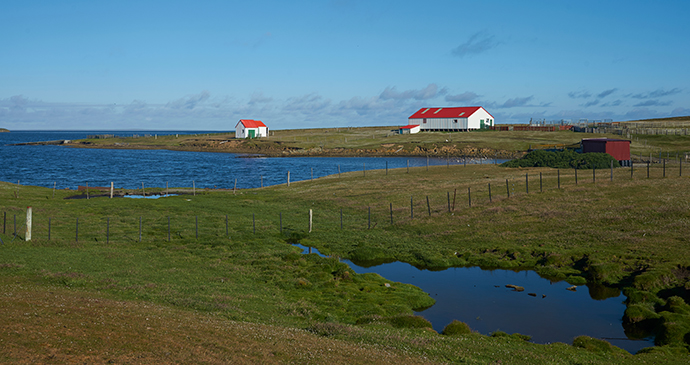 The northern part of this island is a National Nature Reserve © jeremyrichards, Shutterstock
This island is a little off the main circuit, but a warm welcome awaits those who visit.
Lying to the southeast of Lafonia, Bleaker Island was on the tourist map for many years only as a stopping point for some of the cruise ships visiting the islands. However, the opening of high-class self-catering accommodation nearly 20 years ago opened up the island to all visitors, from both land and sea. This long, thin island is over 12 miles (19km) long, but is only one mile (1.6km) wide at the widest point. It is still stocked with sheep but has a very good range of wildlife, including three species of breeding penguin, and as such has been designated an Important Bird Area (IBA) by Birdlife International. The northern part of the island is a National Nature Reserve. Although it is not as famous as some of the other wildlife sites around the archipelago, Bleaker Island has plenty to offer and is well worth including in any itinerary. The modern accommodation is centrally placed and is ideal for exploring as it is only a short walk away from a huge king shag colony, with the rockhopper penguins also nearby. Here, visitors get a real sense of being away from it all.
The island's headlands and bays have a variety of names; some are descriptive such as Pebbly Bay or Sandy Bay, while others have a historical connection – for example Cassard Point is named after a French sailing vessel that was wrecked there in 1906. This is the nearest point to East Falkland as Driftwood Point is only half a mile away.