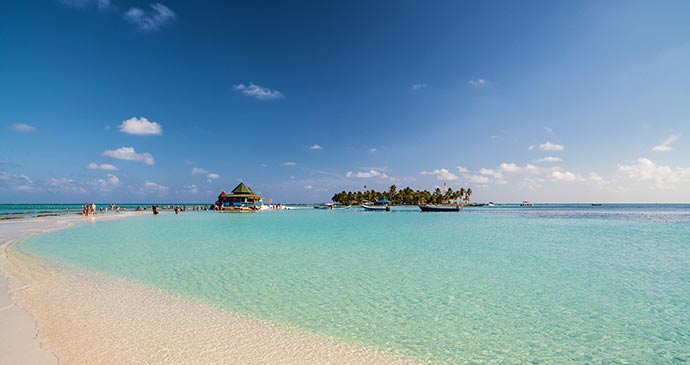 © pipojackman, Shutterstock
Home to the UNESCO Seaflower Biosphere Reserve, this is one of most isolated island regions in the Americas.
Colombia's only oceanic department – the West Indies department – is one of the most isolated island regions in the Americas, located 800km northeast of the Colombian mainland, just 150km from the Nicaraguan coast. Laid-back locals pride themselves on being barefoot champions of leisure in a calypso culture that is a world away from fast-paced Bogotá. Warm Caribbean waters are home to a cluster of palm-scattered atolls, islets and cays in an archipelago where 300,000km2 forms the main constituent of a UNESCO Seaflower Biosphere Reserve (Reserva de la Biosfera Seaflower). Fertile waters, grass beds and mangrove-clad lagoons host a magnificent array of bird species with isolated soft-sand beaches and undisturbed coral reefs rich in underwater flora and fauna. Three inhabited islands form the archipelago's geographical and spiritual heart, as immortalised in the lyrics of Colombian musician Francisco Zumaque's catchy chart-topper 'San Andrés'. Around them lie five uninhabited atolls to the north and two to the south with a liberal scattering of sandbanks and cays in between, including the submerged islet of Alicia Shoal.