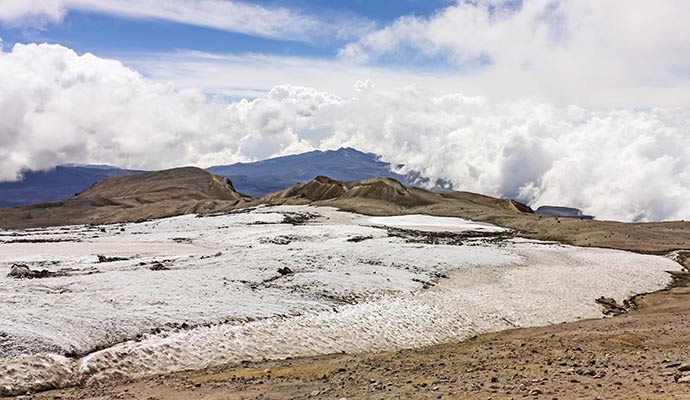 The 5,325m-tall Nevado del Ruiz last erupted in 1985 © Toniflap, Shutterstock
Home to the Nevado del Ruiz, this national park has some excellent hiking trails.
Travellers keen to hike through some of Colombia's most striking terrain will find this 583km² patch of the Andes fits the bill. Not only does this snow-caked range of volcanic peaks – topped by the 5,325m-tall Nevado del Ruiz – offer truly incredible views from trails that climb through cloudforest but it is also relatively easy to access and, most importantly, safe. However, it is very cold and the altitude can pose problems health-wise. On this basis, anyone not feeling 100% fit should give Los Nevados a miss.
A hike to the summit of the still-active Nevado del Ruiz takes about three hours. Varying altitudes ensure a collection of well-maintained paths wind through considerable diverse terrains, from humid thickets and cool highland scrubland to crisp, white snow and ice. Popular with skiers and budding volcanologists, the range comprises El Tolima (5,215m) at the southern end followed by El Quindío (4,750m), Santa Isabel (4,950m), El Cisne (4,750m) and then El Ruiz in the north. The park attracts mountaineers from all over the world, many of whom traverse all four peaks. This takes about seven days to complete and is a highly popular challenge.
But it is not just the climbing that has made these mountains famous. On 13 November 1985 at precisely 21.08 Nevado del Ruiz erupted – with catastrophic results. Within four hours vast lava flows had travelled over 100km, leaving total devastation in their wake. More than 23,000 people were killed and more than 5,000 injured. The town of Armero (population 27,500) at the mouth of the Río Lagunillas canyon was hardest hit, disappearing entirely under the mud. Thousands of villagers along the Chinchiná, Gualí and Lagunillas rivers fled in fear as their homes surrendered to the lahars.