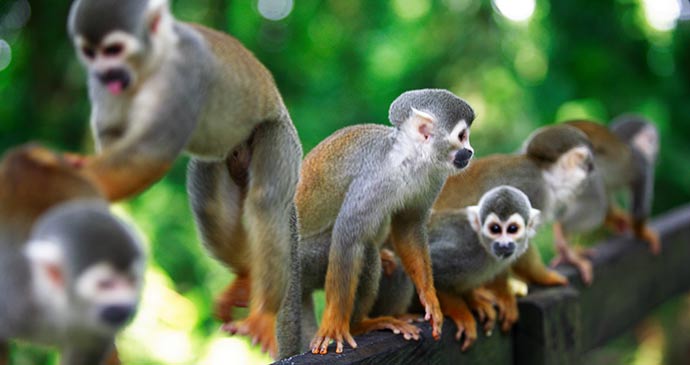 Covering almost one-third of Colombian territory, Amazonia is home to an incredible 10% of all species found on the planet, including squirrel monkeys © Colombian Tourist Office
Few places in the world are as untamed and wild as the Amazon Basin, an isolated region swathed in vast, impenetrable jungle covering almost one-third of the Colombian territory.
Exhilarating, humbling and awe-inspiring, the Amazon River is roughly the size of Germany, spanning 643,000km2 and covering some 40% of South America as the largest lowland in Latin America. The river starts as a tiny trickle atop the snow-capped Andes Mountains and flows across the South American continent until it enters the Atlantic Ocean at Belém, Brazil. Reaching 40km in width at the height of the rainy season the mighty River Sea (as it is often referred to) can flood up to 350,000km2 of land. Stretches of the River Amazon are deep enough to accommodate ocean liners. Sections are fast-flowing and debrisscattered fed by over 1,100 tributaries, 17 of which are more than 1,000 miles long.
This mammoth watershed contains over two-thirds of the earth's fresh water in its rivers, streams and tributaries. From the headwaters of Peru's Ucayali-Apurímac river system the river flows for 6,400km to Brazil via Colombia, a distance slightly shorter than the Nile River but roughly the equivalent of a journey from New York City to Rome. Tiny wood-and-thatch Indian villages hug emerald vine-tangled riverbanks to the cacophony of squawking crimson parrots, chattering monkeys and whining insects in the treetops overhead. Piranha, crocodiles and dugout canoes navigate the waters of the mighty Amazon River and its many tributaries. Indian tribes hostile to strangers hide themselves away in the rainforest, living much as they did before the arrival of the Europeans, hunting, fishing and eating a diet of berries, plants and fruit. Giant blue butterflies and water lilies the size of serving trays are just a couple of the highlights in this magical, surreal land. Hot, sticky conditions complete with vast swarms of hungry mosquitoes and reddish glue-like mud prevail along this brooding river stretch of inky green.
As a region, the Amazon is home to at least 7,500 species of butterfly, 1,800 birds, 800 insect species and almost 2,000 species of reptile and amphibian. It contains 3,200 species of fish and is home to a staggering 10% of all species found on the planet. Botanists have recorded 51,220 species of plant, but doubt they will ever be able to catalogue everything in the lifetime of the world. In a single acre of forest, as many as 100 arboreal species have been counted. Up to 121 million litres of water per second are generated by the River Amazon with an average of three million tonnes of sediment deposited each day near its mouth. The annual outflow from the river accounts for 20% of all the fresh water draining into the entire world's oceans.