Climate
When to visit
Highlights
Climate
Most of Chile, south of La Serena, has a temperate climate with four distinct seasons whose timing is the exact reverse of those in Europe. Spring is roughly November and December, summer January and February, autumn April and May, and winter June to October. Spring is usually wet, summer is clear and sunny with occasional rainy days, autumn is crisp and cool, and winter is cold and damp. As you travel south, summers become cooler and a persistent wind blows, but winters are never really cold anywhere, except in the far south, where wind and rain are more of an issue.
When to visit
Northern Chile is best visited in winter (May to October) since the summer rains (invierno boliviano) wash out roads and trails. The southern summer (December to March) is the best time for almost all outdoor activities (other than skiing). The best times to visit the rest of the country are from November to April. In high summer (January and February) it can be a bit too crowded, but school begins at the beginning of March, so you will then have many places completely to yourself. The reverse applies in Santiago, which empties in January and February, when great bargains are available at hotels. In April, tourist facilities start to shut down and public transport is reduced, but in July and August everything springs to life again in the Lakes District for the winter sports season. However, some of the passes to Argentina are closed by snow in winter, and you may find other minor roads impassable, too. Birdwatchers will want to catch the spring and autumn migrations, with birds following the Pacific Coast, often all the way to or from North America and even the Arctic.
Highlights
An important first step in planning an itinerary to any country is deciding which sights you absolutely must visit, and Chile is no exception, even though its long, thin nature does make it easier to choose a route than in many other countries. Having identified those must-sees, you might want to tailor the rest of your itinerary around them, focusing on places of interest that don't require too much of a detour. In order to help you with this decision, a brief synopsis of my 12 top attractions in Chile is listed below, divided thematically into culture, landscapes and activities. You'll also need to consider the balance between spending time in major cities, the exceptional range of stunning scenery, sports and other outdoor activities, and wine tourism.
Culture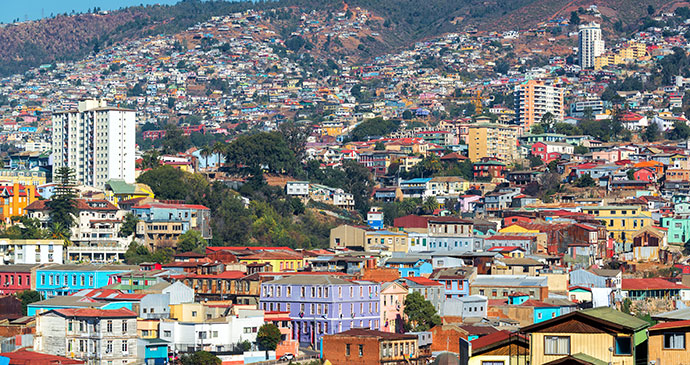 Colourful Valparaiso is unmissable on any trip to Chile © Jess Kraft, Shutterstock
Santiago
Chile's capital has all the facilities of any modern city but has also preserved its historic core, and the pace of life is less frenetic than in most Latin American capitals.
Valparaíso
This unmissable port city, under two hours from Santiago, blends gritty urban life with bohemian creativity in an unforgettably exciting cocktail.
Landscapes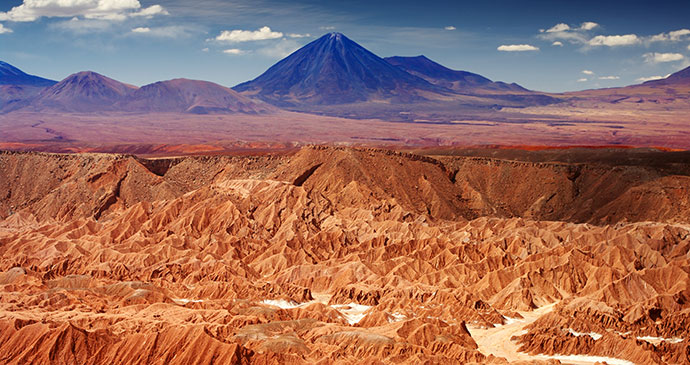 The Atacama is the world's driest desert © Jool-yan, Shutterstock
Atacama Desert
In San Pedro de Atacama, an oasis in the heart of the world's driest desert, fine boutique hotels offer excursions to Inca ruins, astronomical observatories, hot springs and much more.
Torres del Paine National Park
Hike through the continent's most stunning scenery, with a choice of guiding options and fine accommodation.
Carretera Austral
A long lonely road through the pioneer country, between thick wet rainforest and the icecaps that cut off the far south of the country – this is an experience like no other.
Cruce de los Lagos
Buses link boats across a chain of lakes, carrying you across the Andes from Chile to Argentina.
Desierto Florido
In rainy years, the arid Norte Chico bursts into life as colourful flowers erupt from the desert.
Activities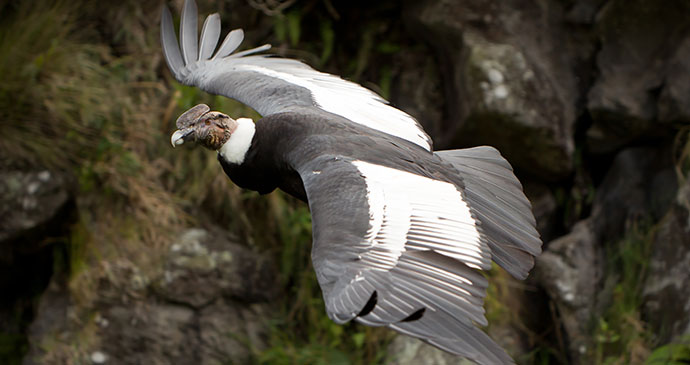 Watch condors soaring among the Andes © Ammit Jack, Shutterstock
Visiting vineyards
Chile's winemaking industry, well known for its affordable but characterful blends, is increasingly welcoming tourists, with fine restaurants and guesthouses on the vineyards. For white wine-lovers, the area to head for is Casablanca, between Santiago and Valparaíso; for red wine-lovers, head south for a couple of hours to Colchagua (and beyond).
White-water rafting
A wide variety of rivers can be run in Chile, some with well-organised tourist operations.
Condor-watching in the Andes
Just to the east of Santiago, it's a short excursion to the modern ski resorts where you can hike up to the snowline and look down on condors soaring in vast gorges.
Fly-fishing
In the far south of Chile, introduced brown trout grow to a massive size and give great sport to aficionados staying in remote but luxurious lodges.
Hike in the temperate rainforest
Central-southern Chile has some of the world's densest and most species-rich rainforest, offering superb hiking.