Climate
The Carretera Austral has four distinct seasons. The summer begins in December and extends into March, although January and February are the most popular months to visit, coinciding with Chilean school holidays. Temperatures exceed 20°C in summer, and very rarely 30°C. The winter extends from June to September, and temperatures routinely fall below freezing. The lowest recorded temperature in Coyhaique is –15°C. Rainfall is abundant across most of this region, with the wettest months generally being April to August, particularly on the western coast. Puerto Cisnes and Puyuhuapi receive inordinate amounts of rain, contributing in part to the lush vegetation of the region. However, there is no month in the year where a waterproof jacket is not useful. Southern Chile is one of the rainiest regions on the planet. Annual rainfall in Puerto Cisnes, often considered one of the wettest regions, can reach 4,000mm compared with a mere 600mm/year in London. The driest month of the year in Puerto Cisnes, February, typically receives 120mm of rain, raining every other day.
As a general rule, rainfall is lowest in February, and further to the east: Lago Verde receives an average of only 6mm of rain (three days of rain), Coyhaique perhaps double this, and Futaleufú 42mm (five days of rain). Snowfall is actually limited in the region. The 2014 ski season was a disaster due to lack of snow.
When to visit
The Carretera Austral extends from approximately 41°S to 48°S, and as such suffers cold and extended winters (June–September) and surprisingly warm summers (December–March). Hours of daylight in Coyhaique, approximately midway along the Carretera, range from nine hours in June to 15 hours in December. Snow is less common on the western side of the Andes, but precipitation is notably higher in winter. However, the coastal region of the Carretera is notoriously wet throughout the year. Puerto Cisnes suffers approximately 4,000mm of annual rain. The peak summer season, when most tourists visit, is January and February, when most of the festivals take place. It can be hard to book ferries in these months, and hotels also fill up, so it is worth booking in advance. The ideal time to visit is possibly from mid-November until the end of the year, or in March when the Chilean school holidays end, as during this time there are fewer tourists and traffic, lower prices and decent weather. November and April are the earliest and latest times when the Carretera is readily accessible. In the low season, transport connections, including ferries, are fewer and many businesses simply close.
Suggested itineraries
Spanning more than 1,000km from north to south, the Carretera Austral contains a bewildering array of scenery, from sub-tropical rainforests to glaciers. The range of activities possible is extensive, including rafting, climbing, diving, trekking, cycling, fishing and horseriding, to name but a few. Two-thirds of the territory is protected, thus human interference is invisible most of the time. In addition to being sparsely populated, it is rarely visited (although more so each passing year) and offers a more spectacular alternative route from northern to southern Patagonia than the arid terrain of the Argentine steppe.
The optimal itinerary depends on four factors: distance, time available, means of transport and budget. It is important to plan a journey along the Carretera Austral carefully, as there are relatively few entry/exit points, and ferries in particular need to be booked in advance.
Chile is more expensive than neighbouring countries, and more so in the south, and this may be a deciding factor on how thoroughly to explore the region. Visiting the Carretera Austral is often part of a broader circuit around southern South America, particularly as the road connects the popular northern and southern regions of Patagonia. It should be noted that travelling on public transport is slower than private transport, and hitchhiking is possible although not completely reliable. Below are some suggested one-way journeys along parts, or all, of the Carretera Austral.
The classic route: Futaleufú to Chile Chico
(774km; 8 days)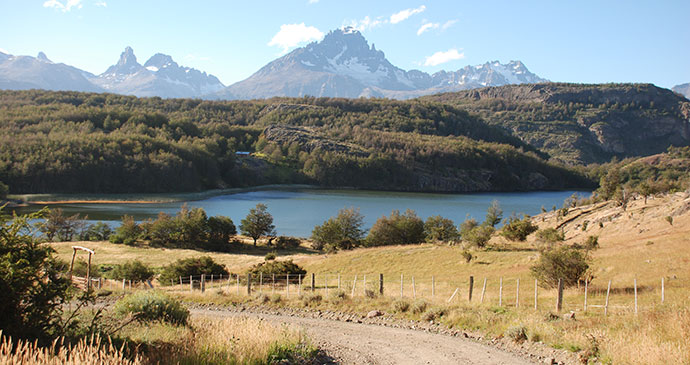 The jagged basalt peaks of Cerro Castillo © Hugh Sinclair
This route is something of a 'classic'. It encompasses many of the highlights of the region and uses the easiest entry and exit points. Ignoring all the detours off the Carretera Austral, it can be covered comfortably in eight days, but it can also take up to three weeks. This route encompasses many of the highlights of the region, from jungle to glaciers, coastline to high mountains, large towns to minuscule villages, stunning lakes, fascinating history, and endless activities and opportunities to observe wildlife. However, for those with more time, including the northern and southern extremes of the Carretera Austral is well worth considering.
The northern Carretera Austral
(219km; 3 days)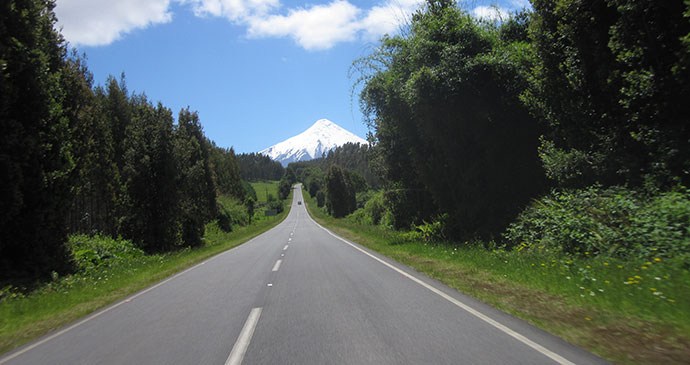 Volcán Osorno provides a backdrop to the road to Hornopirén © Hugh Sinclair
The Futaleufú (or Palena) access point joins the Carretera Austral at Villa Santa Lucía, where most visitors head south on the 'classic' route as detailed above. North of this point are three fascinating regions, and this extension to the classic itinerary connects the Carretera Austral to Puerto Montt in mainland Chile. The road extends north to Chaitén, which can be visited in one day, at which point the only northbound connection is via a ferry connection to Hornopirén. From here, it is possible to reach Puerto Montt in a single day. Budget for at least three days' travel. We have described the route from north to south to correspond with the coverage in Part Two of this guide.
The southern Carretera Austral
(332km to Villa O'Higgins (inc detour to Caleta Tortel), gravel; 12km hike to Argentina; 40km to El Chaltén; 7 days; gravel)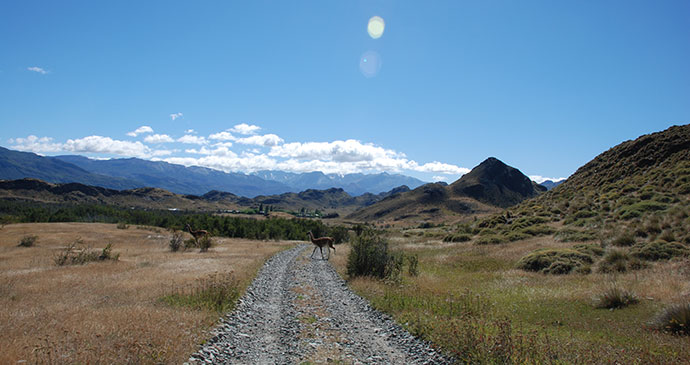 Guanaco in Parque Patagonia © Hugh Sinclair
In some respects this is the most spectacular region of the entire Carretera Austral, but it is often overlooked by those who opt to combine their journey instead with a visit to southern Argentine Patagonia and thus exiting the Carretera Austral at Cruce El Maitén, heading to Chile Chico in order to cross into Argentina. However, there are in fact three border crossings south of Chile Chico and the border crossing at Villa O'Higgins offers foot or bicycle passengers the opportunity to connect directly from the southernmost part of the Carretera Austral with El Chaltén in Argentina, a common destination for southbound travellers. Do keep in mind that this is one of the least travelled parts of the Carretera Austral; it is entirely unpaved, and relies on two ferries, one of which is relatively expensive. Note that for those with a vehicle it is not possible to cross into Argentina – the most southern vehicular border crossing is at Cochrane, so those with vehicles will either have to return to Cochrane to cross into Argentina, or leave the car in Villa O'Higgins and return at a later date. Estimates of the time involved are approximate.