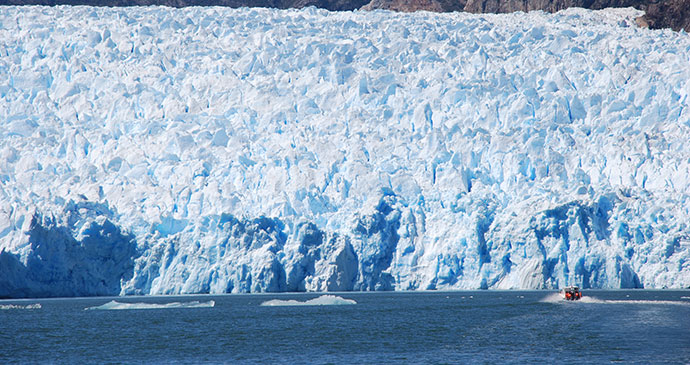 The imposing face of Ventisquero San Rafael © Hugh Sinclair

The sheer size and remoteness of the white mass before you is simply breathtaking.
The most common reason to enter Parque Nacional Laguna San Rafael is to visit the Ventisquero San Rafael, and this is only possible with a guided tour as a boat is required, and the park fee is included in the tour price. Flights over the glacier can be arranged (at a cost!) by charter or with Aires del Sur.
The boats travel down the Elefantes Canal and then through a relatively narrow channel into the laguna itself, at which point the glacier become visible. Initially it appears to be of modest size, until you realise the size of the laguna; from this distance it is possible to see up onto the ice field behind the glacier and appreciate the sheer magnitude of ice. The Northern Ice Field is the smaller of the two, covering 4,200km2 and extending 120km from north to south. As the boat approaches the snout of the glacier the icebergs become larger, and it is probable that you will see chunks of ice calving off the glacier. The pressure caused by the sheer volume of ice squeezes the air bubbles out of the snow as it is subsumed into the glacier, and because compacted ice better absorbs light at the red end of the spectrum, the light reflected from the glacier appears surprisingly blue. Particularly on a sunny day the contrast of the bluish glacier, the ice field behind, the lake, icebergs and sky are simply mesmerising. The only sounds are the occasional bird and the groaning of the glacier as it inches forward, sometimes interrupted by the thunderous roar of chunks breaking off.
A trip to the Carretera Austral is incomplete without a visit to a glacier, where you can watch in real time the mechanism that shaped much of our planet, and the Ventisquero San Rafael is one of the more accessible glaciers in the region. Well worth a visit.