Visas
You don't have to jump through many bureaucratic hoops to enter Chile. No vaccination certificates are required. The USA recently allowed Chile to enter the Visa Waiver Program and as a result Chile has completely dropped the reciprocity fee for US citizens entering Chile (previously US$160). However, Australian citizens must pay $117 and the fee is valid for only 90 days. Mexicans must pay $23 and Canadians $132, but the fee is valid for the life of the passport. Australians, New Zealanders, most European and Latin American citizens do not require a visa and will be granted a tourist visa for up to 90 days. Do not exceed the 90 days as this will be registered and incurs a fine. However, hopping across the border to Argentina and returning a day or two later is acceptable if not done too often. Visas are required for most Asian nations except Japan, Hong Kong, Mongolia, Macau, Malaysia, Singapore, South Korea and Thailand. Visas are not required for citizens of Russia or Israel.
Chile takes the illegal import of restricted goods very seriously, including various agricultural or food stuffs. Fruit, dairy products, honey, etc, are all prohibited and strictly enforced at all airports and to varying extents at land borders. If in doubt, openly ask the border guards – they are generally very relaxed if you are honest, and will allow you to eat any apples or sandwiches in their office before entering Chile.
Getting there and away
By air
International flights
Santiago has one international airport – Aeropuerto Internacional Arturo Merino Benítez. International airlines flying to/from Santiago include: Aerolineas Argentinas, Austral, Aeromexico, Air Canada, United, Air Europa, American Airlines, Air France, KLM, Avianca, Copa, Delta, Gol, Iberia, LAN, Sky Airline, Taca, Tam and Quant.
From the UK, British Airways flies direct to Buenos Aires, but there are no direct flights between the UK and Chile. Flights from London to Santiago typically go via Paris, São Paulo, Madrid, Toronto or via the USA. From the US, there are daily direct flights from Dallas, Houston, JFK and Miami. Elsewhere, there are direct flights to Santiago from Australia (Sydney), Bolivia (La Paz and Santa Cruz), Brazil (São Paulo and Rio de Janeiro), Canada (Toronto), Colombia (Bogotá), Costa Rica (San José), Dominican Republic (Punta Cana), Ecuador (Guayaquil and Quito), France (Paris), Mexico (Mexico City and Cancun), New Zealand (Auckland), Panama (Panama City), Paraguay (Asuncion), Peru (Lima), Spain (Madrid), Uruguay (Montevideo) and Venezuela (Caracas). Lufthansa and KLM fly via Argentina. From the Falkland Islands flights go via Punta Arenas, from where it is possible to fly to Balmaceda, Puerto Montt or Santiago.
By road
The main road border crossings to/from Argentina accessible by a regular private vehicle (in north to south order, Chile town/Argentine town) are: Futaleufú/Trevelin; Palena/Corcovado; Río Frías/Aldea Apeleg; Ñirehuao/El Coyte; Coyhaique/Río Mayo (two border crossings); Balmaceda/Río Mayo; Puerto Ibáñez/Perito Moreno; and Chile Chico/Los Antiguos.
The Paso Roballos border crossing is possible only in a 4×4 or on foot, but is a challenging border crossing as there is relatively little infrastructure or traffic on the Argentine side. Paso/Las Pampas is not possible most of the year due to an incomplete bridge on the Argentine side. Very occasionally trucks and 4x4s can cross this border. The Río Mayer crossing northeast of Villa O'Higgins is not passable.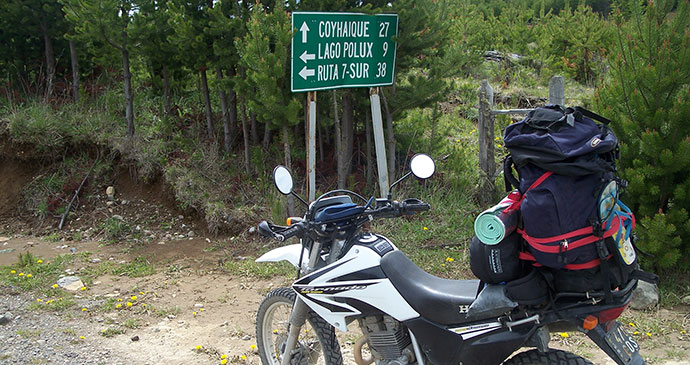 The Carretera Austral is a great road to explore on bike © Warren Houlbrooke
By ferry
Ferry connections with the Carretera Austral run between Puerto Montt and Caleta Gonzalo, Puerto Chacabuco and Chaitén; and between Quellón (Chiloé) and Chaitén, Raúl Marín Balmaceda and Puerto Cisnes (also highlighted on the map, page 62). The only means to cross from Hornopirén to Caleta Gonzalo is by ferry, and this needs to be booked well in advance. The two main companies are Naviera Austral and Navimag (see page 45 for details). Ferries are generally no slower than travelling by land; for example, the direct ferry from Puerto Montt to Puerto Chacabuco takes 24 hours (without delays), and it is a challenge to beat this travelling overland, even via Argentina. Unless opting for a private cabin, prices tend to be reasonable for passengers; cars and motorbikes incur an additional fee, very roughly approximate to the cost of a person.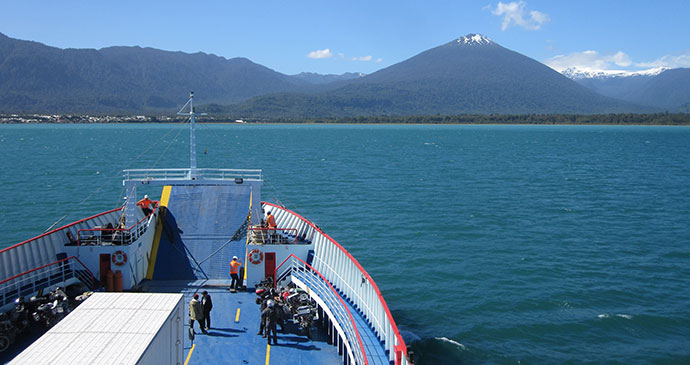 Crossing the Fiordo Comau © Hugh Sinclair
By bus
International buses run between Futaleufú (Chile) and Trevelin (Argentina; change bus at border, synchronised), and between Coyhaique (Chile) and Río Mayo (Argentina; the bus continues to Comodoro Rivadavia). Direct buses from Coyhaique to Puerto Montt and Osorno travel via Argentina and are not permitted to pick up or drop off passengers in Argentina. There are no direct buses between Bariloche and the Carretera Austral, nor are there buses from Tecka, in Argentina, to Chile, despite this being an obvious route to consider.
As it is impossible to fly directly from Argentina to any point along the Carretera Austral, it is cheaper and quicker to take the bus. Within Chile it is certainly convenient to fly to Puerto Montt, and flights are not substantially more expensive than buses if booked in advance, while being far quicker. The key decision is whether to fly to/from Balmaceda; although it is quicker, it often means missing a large section of the Carretera Austral. Ultimately this is more likely to be determined by the chosen itinerary. Overnight buses from Santiago to Puerto Montt are cheaper than flying, also save on a hotel night, and for taking larger items such as bicycles it may be easier, and certainly cheaper, by bus.