The only road directly connecting Argentina to the Pacific in this region, the road traverses a variety of terrains, following the Figueroa and Palena rivers and terminating at Raúl Marín – a paradise for those keen on bird and other wildlife watching.
Raúl Marín Balmaceda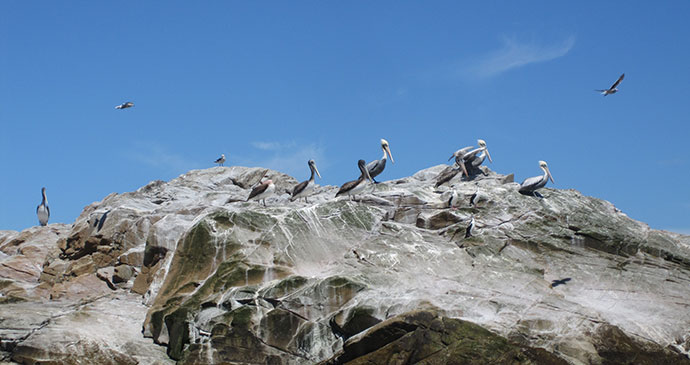 Pelicans at Raúl Marín, Balmaceda © Hugh Sinclair
If a visitor to the Carretera Austral has time for only one of the various detours off the main road, this is possibly the most interesting. Founded in 1889, Raúl Marín is actually the oldest inhabited place in the entire province of Aysén, in part for being an obvious access point for the early settlers from Chiloé. It is situated at the confluence of ocean, river and fjord, barely populated (under 500 inhabitants), and boasts spectacular wildlife and vistas. Accessible from La Junta (61km) via a short ferry ride, or by boat from Chiloé twice a week, and sandwiched between Volcán Melimoyu to the south and Parque Nacional Corcovado to the north, it is hard to find somewhere quite as remote as this even elsewhere along the Carretera Austral. With the possible exception of thriving nightlife, there is something in this small village for everyone, from birdwatching to sailing; sitting on sandy beaches to eating fine seafood; and from hot springs to kayak trips.
Lago Verde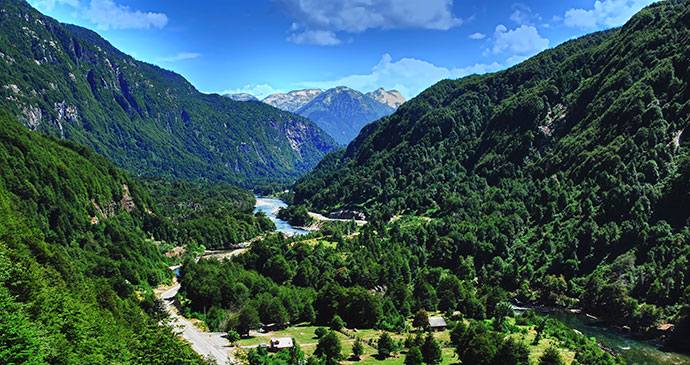 View over to Lago Verde from the Amengual lookout © Edison Zanetto
A frontier town without a frontier. Alas, the Argentine side of the border has not been completed, and while in theory it is possible (and permitted) to cross the border, the absence of a critical bridge makes this a treacherous crossing. Generally the water level of the Río Pico is low enough to cross safely only a few days per year so, in all likelihood, this is a 160km spectacular round-trip drive beginning and ending in La Junta. Those intrigued by isolated communities perched in the middle of nowhere will find it interesting, but make sure the fuel tank is full and the spare tyre is infl ated before departing.