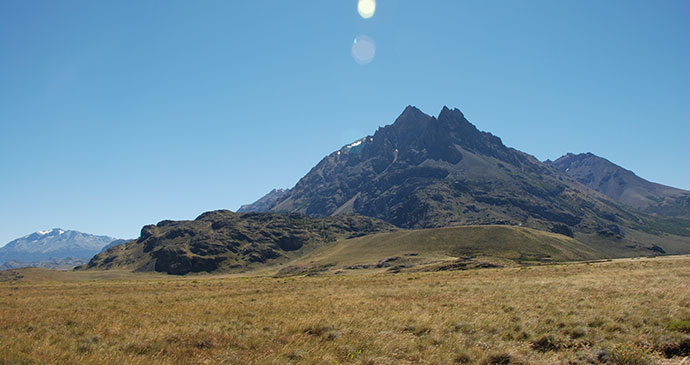 © Hugh Sinclair
The park offers abundant wildlife, countless lakes, excellent short and multi-day hikes, and stunning scenery.
Currently the land (over 200,000 acres) between Reserva Nacional Jeinemeni (south of Chile Chico) and Reserva Nacional Tamango (north of Cochrane) is referred to as the Valle Chacabuco, and was acquired by Conservación Patagónica (CP), the foundation established by Kris Tompkins in 2000. The Río Chacabuco and the main road connecting the Carretera Austral to Argentina at Paso Roballos run through the valley. CP is in the process of merging Valle Chacabuco with the two national reserves to form the Parque Patagonia, creating 2,400km2 of national park stretching from Cochrane to Chile Chico, encompassing most of the land east of the Carretera Austral up to the Argentine border. This park will challenge even Torres del Paine further south as one of the primary tourist destinations in Patagonia, and is already undoubtedly one of the highlights of the entire Carretera Austral. For more on the work of Kris and Doug Tompkins.
CP has developed important infrastructure within the park and the plan is that, once complete, Parque Patagonia will be donated to the Chilean government (as a national park). The main headquarters include a hotel, accommodation for staff and management, a school, roads, offices, and scientific facilities. The board of CP includes a number of leading scientists who advise on the best means to restore the land to its original state. All materials used in construction are sourced locally and recycled where possible. Food is organic and also sourced locally. Six bridges were constructed to facilitate the trekking trails.
Parque Patagonia is located in one of the few east–west valleys in Chilean Patagonia, and while to date there are only three marked trails, more are planned. This is a park in its infancy, but the early signs are very encouraging. The park offers unspoiled wilderness, extensive wildlife, excellent trekking, and luxury accommodation for those with decent travel budgets. For the rest of us, the campground is more than adequate. Note that it is not permitted to light fires in the park, or indeed any park in Patagonia (Argentine or Chilean), due to the ease with which forest fires can begin. Camp stoves are essential.