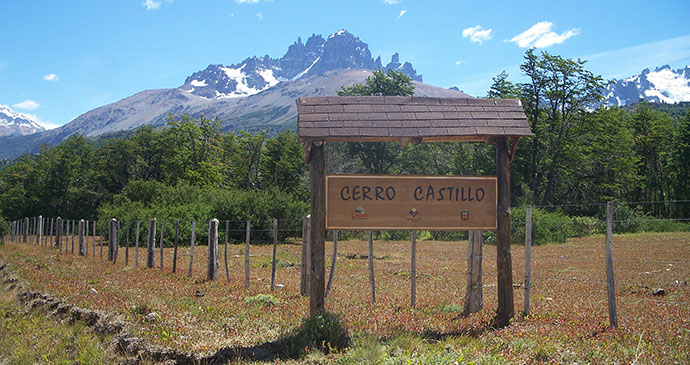 © Warren Houlbrooke
The road weaves through stunning forest, with views of Cerro Castillo and the panoramic horizon of the Reserva Nacional Cerro Castillo.
The Cerro Castillo mountain range is fast becoming one of the key treks in southern Chile, with options for those seeking a gentle stroll to the most experienced climbers. To the southwest lie some of the most beautiful stretches of road in the region.
The dramatic approach to the village of Cerro Castillo offers vast panoramic vistas of the entire valley, with the snow-capped mountain range of the same name glistening to the west. A few dozen hair-pin bends later, the village itself is fairly drab, serving as a mere springboard to the mountain that deservedly features on most itineraries along the Carretera Austral. Besides the beauty of the valley, Cerro Castillo offers some of the most accessible trekking and horseriding opportunities along the Carretera. The jagged basalt peaks are the crown jewel of the national reserve, named for the resemblance to the battlements of medieval castles, and reach an altitude of 2,675m. The reserve covers 180,000ha of rugged mountains and roaring trout-filled rivers, waterfalls, hanging glaciers, lagoons and native bush. Indeed, Cerro Castillo, along with Parque Pumalín to the north and Parque Patagonia further south, are fast becoming as iconic a Patagonian trekking destination as the more established treks around Torres del Paine and El Chaltén.