Being set in the foothills of the Andes and surrounded by vineyards would be publicity enough for the capital city of Mendoza, but there is so much more. By day, it is a great city to walk around, with plentiful trees and flowers in the streets and numerous plazas with markets and street musicians. By night there are theatres and nightclubs to enjoy as well as restaurants with pavement tables where in summer you can sit and watch the passers-by.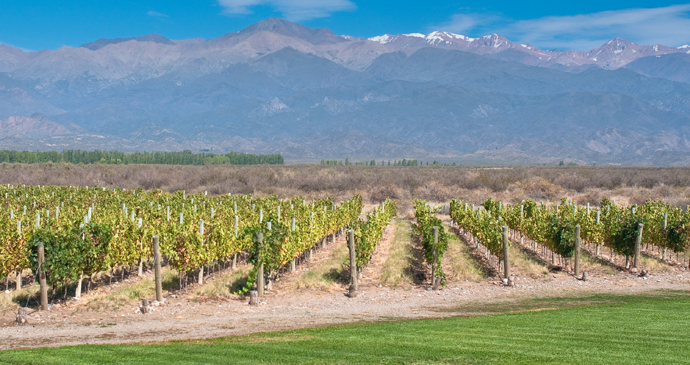 The centre of Mendoza is largely pedestrianised with attractive streets lined with poplars, elm and sycamore (all planted by the city and none of which are native to Argentina) and irrigation channels called acequias. Although Mendoza is an old city, founded in 1561, much of its historic architecture has been lost in earthquakes. The most devastating of these was in 1861, when the city was almost completely destroyed and some 10,000 people were killed. The city was rebuilt with mainly ground-hugging single-storey buildings. The most serious quake in recent times was in 1985, when there were few fatalities but tens of thousands lost their homes.
The Wine Route
The province of Mendoza is the traditional heart of the viticulture industry, with hundreds of wineries nestled in the foothills of the Andes. Specialist tours for wine buffs are operated by Pulp Travel (Terrada 168, Perdriel, Luján de Cuyo; mobile: 15 543 3292; mendozawinetours.com) and Aymará (9 de Julio 1023; tel: 420 2064, 5304; www.losvinosdelosandes.com) among others. Many companies offer wine tours by bike, too, such as WineBike (San Martín 1070; tel: 423 2103); TravelinBike (in front of Norton Winery, Luján de Cuyo; tel: 353 0186, 353 0197); Mr Hugo (Urquiza 2288, Coquimbito, Maipú; tel: 497 4067; www.mrhugobikes.com); and Maipú Bikes (Urquiza & Monteagudo, Coquimbito, Maipú; tel: 497 3311).
Wineries near the city
Bodega Terrazas de los Andes (Thames & Cochabamba, Perdriel Mendoza, on Ruta Provincial 15, km22 to Thames; tel: 488 0058, 011 4121 8000 in Buenos Aires; www.terrazasdelosandes.com.ar) is owned by the Moët Hennessy-Chandon Estates group. They have studied the advantages of various elevations and have found that Syrah gives its best fruit at 800m, in the Cruz de Piedra terraces; Cabernet Sauvignon at 980m, in the Perdriel terraces; Malbec at 1,067m, in the Vistalba terraces; and Chardonnay at 1,200m, in the Tupungato Valley.
Accommodation is available in their own luxury guesthouse with various add-on packages offering you horseriding, cookery lessons, tours, tastings, picnics and shows. Tours are available at 09.30, 11.00, 12.30, 15.00 and 16.00 Monday to Friday, by advance booking. Winery tours with tastings cost from 30 pesos; with lunch, from 160 pesos. A full-day visit to the winery, horseride and picnic costs US$130.
Bodegas Chandon (Ruta 40, km29, Agrelo; tel: 490 9912; www.bodegaschandon. com.ar), founded by the famed French house in the late 1950s, produces excellent sparkling wines. Free tours (four per day) are offered in high season.
Wineries in Luján
This town, 15km south of Mendoza, is in the Vistalba Valley as well as various wineries. (It's not to be confused with the town of Luján outside Buenos Aires, which has a magnificent cathedral.)
Bodega Catena Zapata (Calle Cobos s/n, Luján de Cuyo 267; tel: 413 1100; www.catenawines.com) has origins that date back to 1902; a fantastic new winery, styled like a Mayan pyramid, opened in 2001. The Malbec is superb. A big company focusing more on the export market than on passing tourists, it does nevertheless offer free tours 10.00–18.00 Monday to Friday (reservation required; book online). However, tastings have to be paid for.
Luigi Bosca's Wines (San Martín 2044, Luján de Cuyo; tel: 498 0437; www.luigibosca.com.ar) was founded in 1901 by Leoncio Arizu, who had settled in Mendoza in 1890. Vistalba, La Puntilla, Carrodilla and El Paraíso are the four vineyards belonging to Leoncio Arizu.They offer tours at 10.00, 12.00 or 15.00 Monday to Friday, and 11.00 on Saturday, for 25 pesos. Reserve in advance online, requesting English or Spanish.
Bodega Norton (Ruta 15, km23.5, Perdriel, Luján de Cuyo; tel: 490 9700; www.norton.com.ar) produces Malbecs and others familiar from your last restaurant's wine list. They offer regular visits through the day, Monday to Saturday; reserve through the website.
Wineries in Maipú
East of Mendoza city, the region of Maipú is also home to various wineries.
Bodegas y Viñedos López (Ozamis 375, General Gutiérrez, Maipú; tel: 497 2406; www.bodegaslopez.com.ar) is a producer of Monchenont, Casona López, Château Vieux, Rincón Famoso, López, Traful and Vasco Viejo. Various tasting arrangements are in place, all requiring advanced booking (easily done online).
The basic 20-minute visit to the vineyard and one-hour visit to the bodega are both free, with English-language tours at 11.30 and 15.30 Monday to Friday. Special tastings are 52 pesos per person, minimum four people; a Guided Vertical Tasting is 150 pesos, minimum four people. Special lunches and dinners can be arranged and wine-tasting courses are offered.
Finca Flichman (Munives 800, Barrancas, Maipú; tel: 497 2039, 497 2045; www.flichman.com.ar) has been established since 1873. Now it is a modern winery making fine wines largely for export, culminating in the rich, strong Dedicado. Booking is required for tours, which are available 10.00–12.00 and 13.00–16.00 Monday to Saturday.
Familia Zuccardi (Ruta Provincial 33, km7.5, Maipú; tel: 441 0000; www.familiazuccardi.com) was founded in 1968 and has the same owners as Santa Julia and Finca Beltrán. Zuccardi wines are fantastic value, and include organic varieties. You can visit 09.00–17.00 Monday to Saturday; they also offer quad-bike tours of the vineyards followed by tastings.
Bodega La Rural (Montecaseros 2625, Coquimbito, Maipú; tel: 0261 497 2013; www.bodegalarural.com.ar) makes the excellent Rutini and Trumpeter wines and has several vineyards around the region. It runs a Museo del Vino here (open: 09.00–13.00 & 14.00–17.00 Mon–Sat).