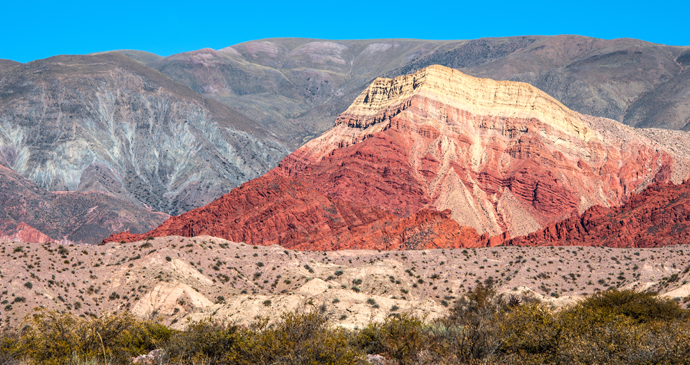 The brightly-coloured Quebrada de Humahuaca stretches all the way to Bolivia © Ksenia Ragozina, Shutterstock
Added to UNESCO's World Heritage List in 2003, the Quebrada de Humahuaca is a corridor of small villages, with many traces of prehistoric hunter-gatherer communities, pre-Incan and Incan archaeology, set amid mountains up to 6,000m in altitude. Its lively ethnic market villages and small towns offer vibrant-hued clothes and handicrafts, as well as traditional local dishes such as llama. Thanks to mineral deposits, even the mountainsides here are often striped in paint-box colours.
This long and mighty valley, stretching dustily north from Jujuy to the Bolivian border, is colourful in every sense.
The Circuito de la Quebrada is well serviced (and very cheaply) by local buses (so beware: no toilets!) and some coaches. If you're day-tripping by bus from Jujuy (or Salta), visit Purmamarca first; carry on to Tilcara; finish with Humahuaca; then return. However, there are many other settlements worth visiting, and there are good accommodation options in all the villages mentioned above. You can happily spend two or more days exploring the valley. Having a car will give you the most freedom to move at your own pace and stop at all the villages.
In practice you can simply turn up at Jujuy's main bus station without worrying too much about schedule details: departures are plenty. Several local bus companies run services up the valley through the day from Jujuy to Purmamarca (P), Tilcara (T), Humahuaca (H) and La Quiaca (Q): Evelia (hourly to H, T; some stop at P); El Quiaqueño (every two–three hours to H, Q); Arco (lunch and midnight to T, H, Q); Balut (four per day to Q); JamaBus (morning and late night to T, H, Q); Panamericano (hourly to T, Q, P at 11.00 and 17.00). From Purmamarca to Tilcara, JamaBus and Evelia provide over a dozen services per day.