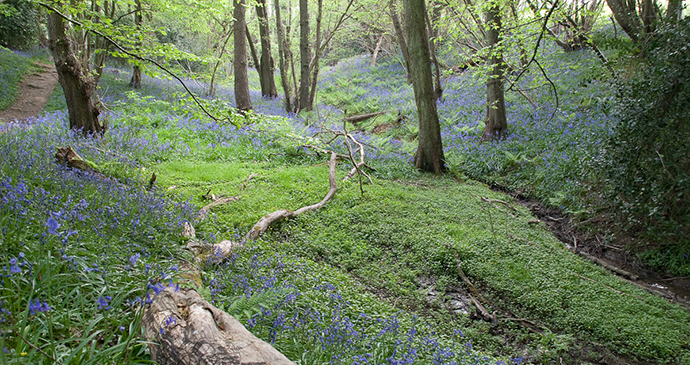 Bluebells in Ashdown Forest © Ashdown Forest
East Sussex doesn't geographically extend north to south for any great distance, but this northern strip of sandstone scenery feels a world away from the more visited South Downs and coast.
East Sussex doesn't geographically extend north to south for any great distance, but this northern strip of sandstone scenery feels a world away from the more visited South Downs and coast. You need to get high up to piece together this remote-feeling and strangely impenetrable landscape of copses, hammer ponds, larger woodlands and sandstone outcrops. From churchyards such as those at Turners Hill, West Hoathly and Cuckfield you look over the tree tops towards the South Downs, bare-sloped and orderly.
You can get similarly grand views from some of the big estates that harbour world-class gardens such as Standen – a favourite Arts and Crafts house open to public view – and Borde Hill. Other great horticultural creations are more tucked away and secretive. Come here in late spring or early summer and the rhododendrons and azaleas put on a dazzling show. Nymans perhaps outdoes them all for sheer theatricality. Wakehurst Place and Sheffield Park are two vast and justifiably famed National Trust gardens. The latter, also celebrated for its stupendous autumn foliage, is most memorably reached by a vintage steam train on the Bluebell Railway. Among other architectural hallmarks, Horsham slates, hipped gables, medieval 'Wealden halls', pantiles and timber frames are seen in a plethora of ancient buildings in numerous villages – among them Mayfield, Wadhurst, Burwash and Rotherfield.
The term 'High Weald' isn't widely understood, even by some of its own residents. The High Weald Area of Outstanding Natural Beauty is defined by its geology (sandstone, laid down during the dinosaur era 130 million years ago as what are known as the Hastings Beds) rather than its altitude. It's a rough triangle of land spilling into Kent and extending from just outside Horsham in the west to Hastings and Rye in the east, and bounded on its north side by the peripheries of East Grinstead, Tunbridge Wells and Tenterden. It was never an area of aristocratic estates or rich farmland, unlike West Sussex: iron ore extraction and smelting, seasonal swine grazing, and woodland activities such as charcoal making and forestry were more the norm in medieval times in this less fertile terrain, and the area has essentially changed its look very little in 700 years – effectively a rare survival of a medieval landscape.
The High Weald has numerous identifying features. Much of the tree cover is ancient woodland, preserving archaeological features such as raised boundary banks and charcoal-burning platforms. These wildlife-rich areas of woodland and the numerous unimproved meadows are found far more commonly than across the rest of the country: 70% of woodland in the High Weald is classified as ancient (that is, in existence at least since 1600), as compared to just 19% across the whole of Britain: ferns and wild garlic are ancient woodland indicators. Oaks are the predominant tree species. Here and there you'll find 'gills' – steep-sided, fast-flowing streams carving out a course through ravines – the only area in southeast England that they exist. Fields often tend to be small and irregularly shaped – the result of peasants hacking out by hand little clearings in the Wealden forest. It wasn't a rich area, but somewhere folk eked out a rudimentary life grazing pigs or harvesting from the forest.
Parts of this area have a distinctly un-Sussex look. Ashdown Forest is a large lowland heath that has almost a moorland character, carefully preserved by conservators for many years and almost a mini national park in itself. Wandering deer stray on to the lonely roads, clumps of Scots pines punctuate a skyline that might be in northern England, and Winnie-the-Pooh aficionados tackle a daunting maze of paths in search of literary landmarks. Further east Eridge Rocks is one among several rock outcrops in the vicinity that wouldn't look too out of place in the Peak District, although the luxuriant growths of bamboo hint at something more exotic.