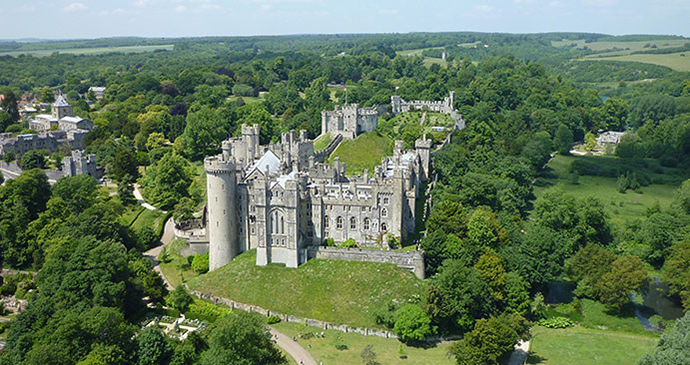 Arundel's impressive castle © West Sussex Council
Chichester is one of a quartet of sharply contrasting historic centres in this corner of Sussex, which along with Midhurst, Petworth and Arundel all have their special places to savour.
It's easy to have a soft spot for Kingley Vale, the mysterious yew forest on the Downs. No one knows why it's there, and it's enough of a trek to mean that only the most dedicated get to it. From the top, the view is utterly sublime, far over Chichester Harbour, Sussex's answer to East Anglia – a lowland of great water channels and saltmarshes. This waterscape could hardly be more different from the South Downs, and makes best sense explored by boat; you might particularly like the solar-powered catamaran that glides silently and slowly around the harbour – the perfect way of slowing down.
At its northern end, Chichester is one of a quartet of sharply contrasting historic centres in this corner of Sussex, which along with Midhurst, Petworth and Arundel all have their special places to savour – the Bishop's Palace Gardens forming an unexpected haven in the heart of Chichester, Midhurst with its melodramatic Cowdray Ruins, Petworth for its juxtaposition with a huge park and house, and Arundel, where you can swim in a lido with a view of the castle or encounter the wildlife at the Wetland Centre.
Art is particularly strong here, with Pallant House at Chichester being one of the country's top modern art collections, and the Cass Foundation's contemporary sculpture park in the heart of the Goodwood Estate being one of the most magical. Petworth House has the foremost art collection of any National Trust house – though for me the Grinling Gibbons carvings steal the show. Stansted Park and Uppark are fascinating houses to visit and compare, each destroyed by fire and rebuilt at either end of the 20th century. And more ancient offerings are there in the form of exceptional mosaics at Bignor Roman Villa and Fishbourne Roman Palace, and a host of the churches with medieval wall paintings, such as at Clayton, Hardham and Trotton.
At Loxwood and Chichester you can travel slowly by canal boat on a short cruise along canals being rescued by volunteers. The same spirit of voluntary dedication has gone wholeheartedly into two fine rural museums – the Weald and Downland Open Air Museum at Singleton, and the Amberley Museum; both are in choice settings in the South Downs, with plenty else to justify staying and exploring the area. Amberley village is a picture of perfection with its thatched houses and views across the Wild Brooks, part of a watermeadows wetland that merges into Pulborough Brooks RSPB reserve.
Walking on the Downs escarpment is boosted by some glorious greens and countryside immediately north – as at Bignor for instance. But if there's a favourite view here, it is further north, in the High Weald, from the heights of Black Down or from the obscurity of Woolbeding Common, where you look to the Downs across a foreground of heather – a scene that almost appears too wild to be in Sussex.
In 2016 a sensational archaeological discovery was made in this much-wooded part of the Sussex Downs, between the Hampshire border and the Arun, following a two-year period of research. The thick tree cover had for centuries covered up history's secrets, but with the help of Lidar technology – which uses an aircraft-mounted laser-guided beam that can penetrate through tree cover – a huge system of agricultural fields was revealed, dating from around 1500bc, extending across some 600 square miles. The forest had protected features over the centuries; in East Sussex anything like this would have long ago been obliterated in the more open landscape. And it wasn't just a patch here and a patch there, but a continuous area of former cultivation: previously it had been thought that large-scale farming had begun with the advent of the Romans, but this find took the story back many centuries earlier. The evidence points to a scale of agriculture so vast that the society must have been organised on the lines of a farming collective. So prehistoric does not necessarily equate to primitive.