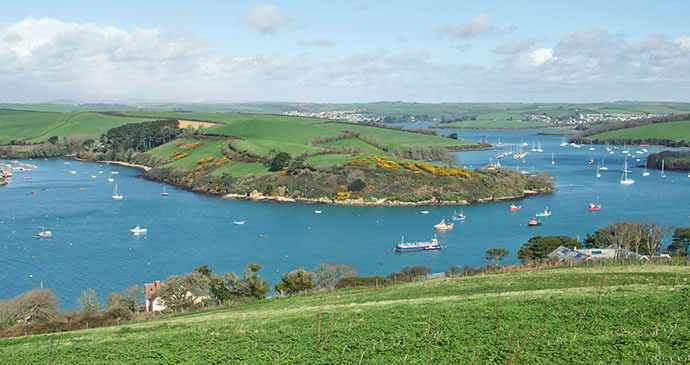 Hire a boat and spend a day exploring the Kingsbridge Estuary © Unique Devon Tours
This is an enduringly favourite family destination.
The extreme south of Devon has its roots planted firmly in the sea; the coast and all it can offer is the magnet for visitors here, with Salcombe its epicentre. From here you can hire a boat and putter around the estuary, select some of the most scenic stretches of the South West Coast Path, or spend the day on one of the sandy beaches. This is an enduringly favourite family destination.
Coming from Dartmouth in the east, the first place of special interest is Slapton, with its long beach that stood in for Normandy in practices for the D-Day landings. But hereafter visitors gravitate south, below the A379. Here, in the South Hams, Devon points two knuckles towards Brittany, bifurcated by the estuary up which a weekly steamer used to carry merchandise to and from Kingsbridge. The name South Hams probably derived from the Saxon hamm, which meant peninsula but also a homestead or village. Some take it literally, and there are plenty of piggy references in the coastal landscape here: Pig's Nose, Ham Stone, Gammon Head.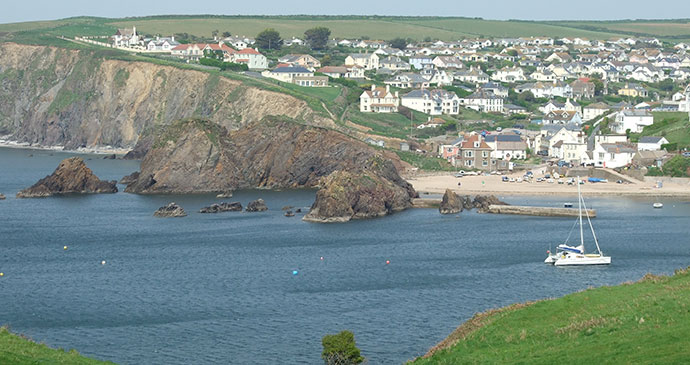 Sandwiched between Inner Hope and Outer Hope is Hope Cove, one of the most popular beaches in South Devon © Sue Viccars, dartmoormagazine.co.uk
Among a clutch of likeable and highly photogenic villages on the west coast are Thurlestone and the enchantingly named Inner and Outer Hope. Cross the River Avon, with its trick pronunciation to reach Bigbury-on-Sea and walk or take the sea tractor at high tide to Burgh Island. The sea isn't the only attraction in the region, however. If you're heading south from Dartmoor and the A38, you'll pass through Loddiswell, little known but with plenty to see and do.