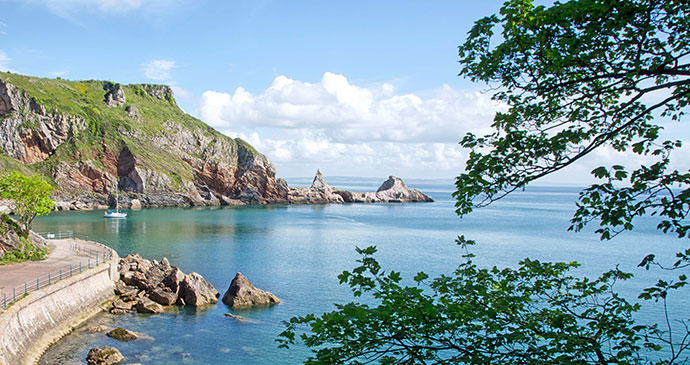 The tiny bay of Anstey's Cove is an unexpected delight © Unique Devon Tours
Once the Great and the Good started coming here, they never really stopped.
The wide, curved deepwater harbour of Tor Bay has played a regular part in history, as well as attracting more recent visitors to its mild climate and sandy beaches. W G Maton, writing in 1794, reported: 'The bay appears to be about twelve miles in compass [four miles as the gull flies], and is reckoned one of the finest … for ships our coast can boast of.' The Napoleonic Wars (1799–1815) elevated the area still further, partly because the Channel Fleet was anchored in Tor Bay for a while, with Napoleon aboard en route to exile on St Helena, and partly because the war in Europe prevented the nobility from doing the Grand Tour abroad so some used the Devon coast as a substitute. Indeed, Napoleon may have inadvertently promoted the area as a holiday destination. On seeing the bay for the first time he is said to have exclaimed: 'Enfin, voilà un beau pays!' Suddenly, Torquay was fashionable and once the Great and the Good started coming here, they never really stopped.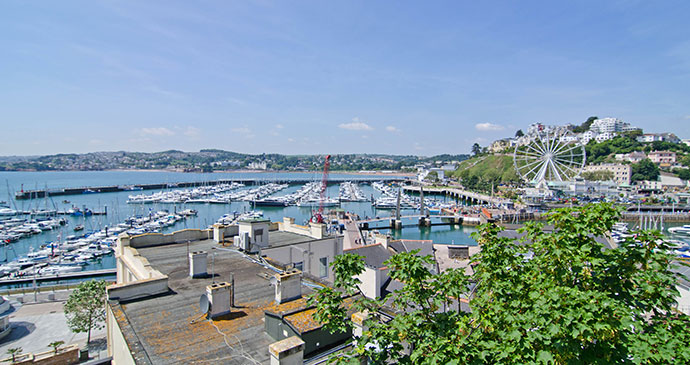 Observe the different boats in the Torquay Marina © Unique Devon Tours
The bay area with its linked towns is officially known as Torbay, but the marketing people prefer 'The English Riviera'. Torquay has its downside – big department stores and traffic jams – and Slow visitors may find Paignton hard to love, but if you know where to go and what to see there are all sorts of pleasures to be found: excellent art exhibitions, the spookily fascinating Kents Cavern (Torbay is one of UNESCO's Geoparks – the term given to areas of exceptional geological interest), and surprisingly rural lanes folded into the hills behind the town. Tucked behind the craggy projections of Berry Point and Hope's Nose which contain the bay are quiet beaches and small, pebble-and-sand coves, with more secluded beaches further north towards Teignmouth.