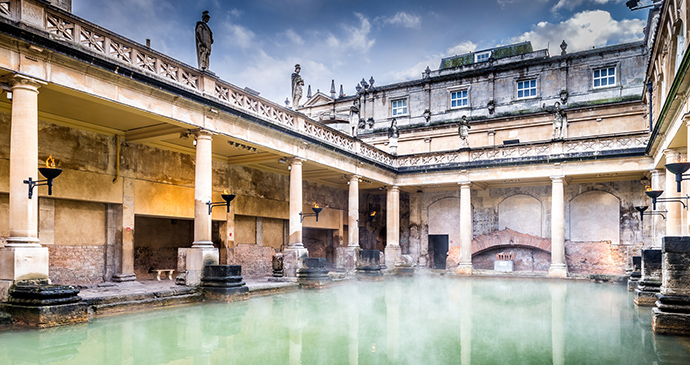 Once topped by a 65ft-high, barrel-vaulted roof, the Great Bath you see today is as much Victorian as it is Roman © Bath & Northeast Somerset Council
I defy anyone not to be enraptured by Bath's dazzling Georgian architecture and stupendous vistas.
Bath's setting, nestled within a deep hollow in a hill, is as dramatic as it is beautiful. And while I can't deny just a hint of bias when assaying the merits of what has effectively become my home city, it's fair to suggest that Bath has few peers. For all its many fine attributes – including some wonderfully idiosyncratic museums, its reinvented spa and of course the Roman Baths – the city's real glory is its outstanding confection of architectural forms, for which it has to thank the likes of Richard 'Beau' Nash, Ralph Allen, John Wood the Elder and John Wood the Younger who, between them, transformed the entire fabric of the city during the 18th century. Monumental ensembles such as The Circus, the Royal Crescent, Pulteney Bridge and Pulteney Street stand cheek-by-jowl with Neoclassical Palladian terraces and squares, and elegantly landscaped parks. In addition, there are some delicious pockets of greenery to escape to, as well as a brace of invigorating walks within touching distance, including the Bath Skyline, one of my favourite outings. For more on this historical city, click here.