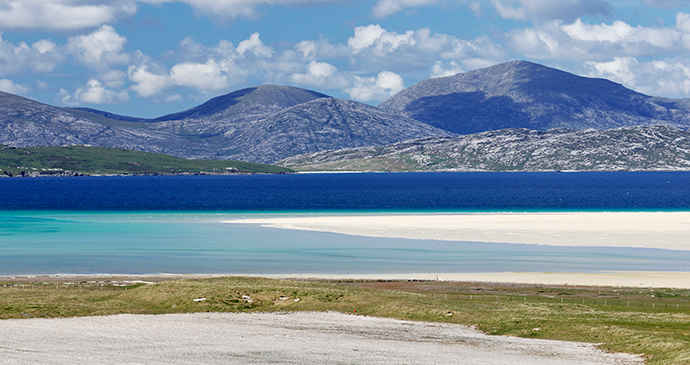 © Laurie Campbell, www.lauriecampbell.com
The ancient watershed of the North Harris Hills offers outstanding walking.
The majority of the hills of note on the Outer Hebrides are clustered together in the north of Harris, and their northernmost limit demarcates the boundary with Lewis. While Clisham is the highest and offers simply stunning views from its summit on a clear day, many walkers argue that the hills to the west are even more impressive with swooping overhangs and textbook glacial valleys. The whole area is now managed by the North Harris Trust, which has moved quickly in the early years of its ownership to make the mountains more accessible and leave walkers less subject to the vagaries of high river flows. An extensive network of paths through the estate covers some 30 miles along the coast, through glens and over passes. The North Harris ranger service runs guided walks from April right through to the deer rut in October. See the website for the schedule of walks and details of the annual Isle of Harris Mountain Festival, usually held in the first week of September.