Luskentyre's many bays offer a collage of colour and coastal scenery as magical as anywhere in the world.
The first views of Luskentyre sands and the Sound of Taransay take your breath away. From the north, the spectacle opens up as you crest the A859 as it flicks west along a passage blasted out of otherwise impregnable Lewisian gneiss.
Coming from the south the backdrop of the North Harris Hills is positively cinematic. Either way, it's no surprise that Luskentyre is regularly cited in pantheons of the world's great beaches. The route described here runs north–south from Tarbert to Leverburgh and Rodel, but can just as easily be explored in reverse.
Beginning some 8 miles southwest of Tarbert, the sands of Luskentyre herald an area of beaches and headlands that reaches 7 miles from east to west and 6 miles from north to south and is only curtailed by the rocky southern shores of Harris 3 miles north of Leverburgh. At low tide, the various beaches along the western shoreline seem to become conjoined and laced with rivulets of retreating and advancing water and ever-shifting dunes.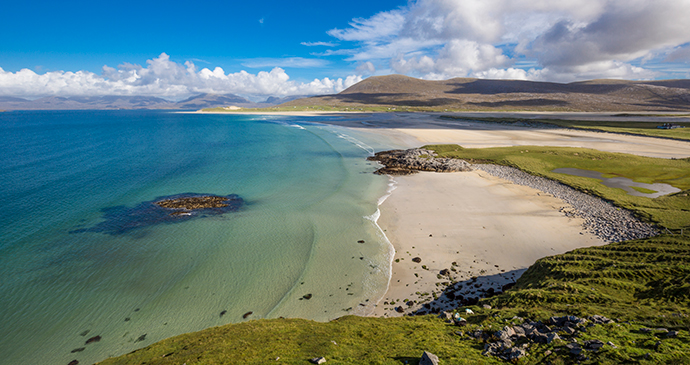 The eastern headwaters of Luskentyre are a brackish world of saltmarshes characterised by curious and extremely photogenic clumps of seaweed that resemble inflated lily pads. These are turf fucoids, small seaweeds that coagulate together to resemble mosses in extraordinary and mesmerising patterns.
The whole of Luskentyre is a Site of Special Scientific Interest and the sand flats are rich in juicy foods such as ragworm, cockles and laver shells. At the head of this magnificent seascape is Loch Fincastle, which is a good spot for dragonflies in summer. Right by the loch and close to the high-tide mark, a turning signposted for Luskentyre (Losgaintir) leads along an unclassified road to the township of the same name. This 5-mile track skirts along the northern shoreline with several places where you can stop and walk. There are excellent rockpools along here for children.
The road winds past a romantically positioned cemetery and descends to a car park with public toilets. A short walk over the dunes here deposits you on to Tràigh Rosemol, an exquisite and almost perfect rectangle of white sand that gazes across to Taransay and, to the north, far along the Hushinish peninsula.
Looking south, the beach appears to converge on a vanishing point; in reality, tides permitting, you can walk south and then west around the dunes for a mile or so, back past the cemetery and make your way up the rocks to the road at one of the points where the two meet. The Sound of Taransay at the mouth of the sands is one of the best places on the islands to see eider.