The new island museum in Stornoway, Museum nan Eilean, offers stirring insights into Gaelic life and culture.
Based on the ground floor of the castle, the Lews Castle Museum and Archive (Museum nan Eilean) opened in 2016 and, despite the rather unimaginative name, it represents a quantum leap for Stornoway. A series of galleries and interactive displays tells the history and present of the islands.
With its emphasis on humanising the stories of fi shing, farming and song, it strives successfully to bring the island landscapes to the fore. Centre stage is given to six Lewis chessmen, on long-term loan from the British Museum in London. Captions are in Gaelic and English. Deliberately and intriguingly, they do not always say the same thing, as the intention is to appeal to two distinct audiences – Gaelic-speakers and English-speakers.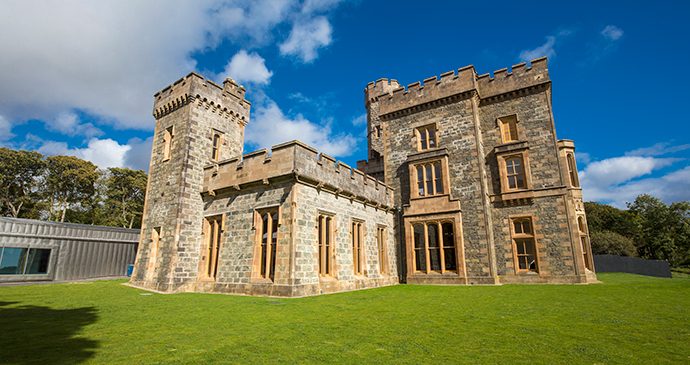 The castle building, which glows a gentle honeyed colour on a sunny evening, has had something of a mixed history. When Lord Leverhulme offered Lewis for sale, Stornoway and the castle were the only parts that the community were in a position to buy. The town spent several decades working out what to do with the castle – it served as a further education college for many years – while it sat cloaked in woodland.
The landscaped grounds of Lews Castle are a delight, not least because they are home to that rare thing on wind-blasted, peat-dominated Lewis – a mature woodland. A walk through the western and southern reaches of the estate is well worth the time; pick a map with various walks at the Woodlands café. The woods were planted by Sir James Matheson shortly after he acquired Lewis from the Seaforth family, using seed from the Far East and the New World, and planted in soil imported from the mainland.