Evocative, haunting and believed to be older than both Stonehenge and the Pyramids of Giza, the standing stones of Callanish are by some distance the most visited site in the Outer Hebrides.
The west coast of Lewis is the most visited part of the Outer Hebrides, visitors flocking – a relative term here – to the island's chief attraction, the standing stones of Callanish (Calanais). Hewn from otherwise undentable Lewisian gneiss, a central monolith some 12 feet high is surrounded by a circle of 13 stones, while lines or avenues of other stones lead away to all points of the compass.
There's a graceful symmetry to the site, enhanced by the patterning of the gneiss visible on the rough-cut surfaces of the stones. The gneiss stones are fine grained, pea-green, as thin as a finger in places but – please don't try this, just in case – utterly unsnappable.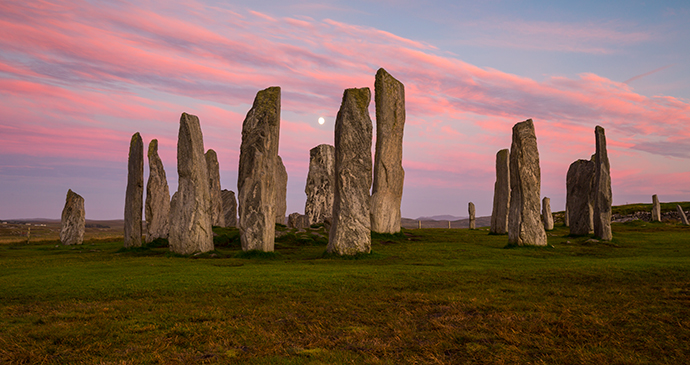 The stones were erected around 4,500–4,900 years ago, but the site is known to have been cultivated by farmers planting barley even earlier, around 3500BC. At the time, the climate was less wet and windy. A ring of stones with the monolith was erected around 2900–2600BC Around 2600BC, a small burial cairn was placed in the stone ring and the rows of stone that run north from the central site may have been added at this time.
By 2000BC, the chamber was encased in a cairn with cremated bones and pottery placed inside. Significant changes happened from 1500BC onwards: farmers ploughed the area and peat smothered the site and by the time it was excavated in 1857, the peat had settled five feet deep.
You can take your pick from the many ideas put forward to explain what Callanish represented; the current prevailing view is that the site is tied into lunar events. Research shows how, at certain points in its cycle, the moon skims along the silhouette of the skyline of hills that make up Uig and Great Bernera to the southwest, an outline known as Cailleach na Mointich, the Old Woman of the Moors, which is thought to depict a sleeping woman.