This natural arch represents deserves its place in Orkney's sizeable pantheon of startling clifftop architecture.
Stronsay's premier attraction is the dramatic arch and gloup (or blowhole) known as the Vat of Kirbuster. Located in the southeast corner of the island, this natural arch represents a shockingly elemental slice of geology and deserves its place in Orkney's sizeable pantheon of startling clifftop architecture. To reach the Vat, you must drive or cycle to Kirbuster (the destination is well signposted) some 3 miles from Whitehall. Park in the lay-by just south of Kirbuster Farm. Walk along the narrow path through the field to the coast and turn right; within 10 minutes you'll be at the Vat.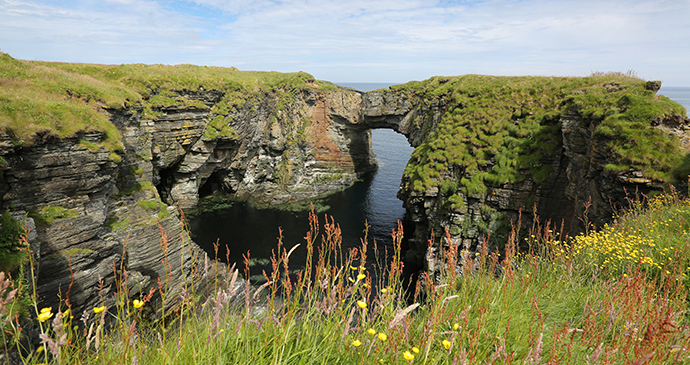 Located on Stronsay, the Vat of Kirbuster sea arch is one of Orkney's premier geological attractions © Orkney.com
You know you've reached the right place as the cliff edge suddenly curves deep inland in a broad arc and – just – completes a full circle. The result is the creation of a gloup measuring 150ft in diameter and dropping for 60ft to the sea. On its seaward side the gloup has partially collapsed, allowing the sea to rush in. (This may be the origin of the name, as 'vat' is Old Norse for water or lake; that said, 'kirbuster' translates as 'church farmstead' and there is a farm but no church nearby.) The rim above the collapsed cliff is supported by a single ridge of sandstone, which functions as a natural lintel or capstone, keeping the structure from collapse. A couple of fences and boardwalks allow you to walk around the Vat in relative safety. Exposed ridges and rocks add to the drama, as do the huge fronds of tussock grass that drape down the Vat's sides, resembling a frozen green waterfall. Just as impressive is the birdlife – fulmars and ravens – that tend to nest on these vertical grasses. You can return the same way or consider a circular walk that continues via Burgh Head and Lamb Head.