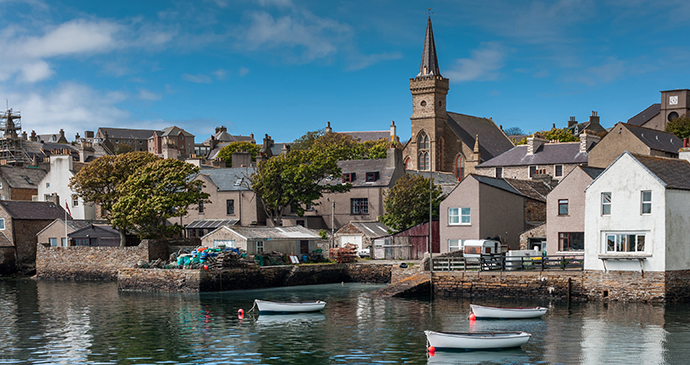 Stromness is Orkney's second-largest but most attractive settlement © Claudine Van Massenhove, Shutterstock
Orkney's most atmospheric town has many artist studios, snug pubs and cafés hunkered down against the wild winter weather.
Orkney's second-largest and most attractive settlement, Stromness is a stone-built port hunkered down in a sheltered harbour. At its heart is a tight-knit huddle of houses, quaysides and slipways all but embedded in the granite ridge of Brinkies Brae, which towers above them. An 18th-century imprint underpins the town – apparent in the three-storey terraced houses that are topped with triangular gable ends of crow-step design. At ground level, these houses open hard on to the street or abut narrow alleys that face stone waterside piers, jetties and nousts. Overall, the town, which has just over 2,000 residents, has a pleasingly weathered yet warm appearance.
Stromness translates from Old Norse as 'headland in the tidal stream' and you can almost see the ghosts of young men preparing to sail on whaling adventures to the Arctic or ready for service with the Hudson's Bay Company. That sense of yesteryear is augmented by the smell of peat- and wood-burning stoves and the ever-present sloshing of the sea.
Stromness is curtailed to the east by the harbour of Hamnavoe, or Haven Bay, which, together with the adjacent islands of Outer and Inner Holm, has provided shelter and refuge from weather and attack since Viking times. The town has a different vibe to Kirkwall – and it is a vibe, for this is an artistic settlement of some stature. In the town's early days, you clearly had to have something about you to both survive and thrive here, and that spirit is still apparent. Consequently, Stromness manages to maintain the feel of a pioneer town.