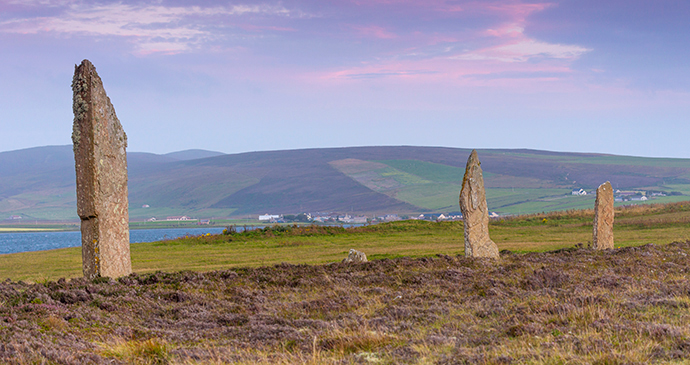 This stone circle is understandably one of the islands' blockbuster sights © Kenny Lam, VisitScotland
This mesmerising stone circle is just one of an incredible concentration of prehistoric sights around the lochs of Stenness and Harray.
Set on slightly raised ground, the Ring of Brodgar Stone Circle and Henge features 36 monoliths (originally perhaps 60), 27 of which still stand today (the remainder lie prone or in fragments). The monoliths vary considerably in size: some are oblong, others thin and slender, still more resemble stumpy incisors. Scottish geologist Hugh Miller described them as 'an assemblage of ancient druids'. All are made of old red sandstone and range from 7ft to 15ft in height. Although they can look damaged or deliberately cut at an angle, this is actually a natural feature resulting from fracturing or erosion (you can see this for yourself at spots such as the cliffs at Yesnaby). The stones form a near-perfect circle 340ft in diameter. The stones are surrounded by a rock-cut ditch, which was once 7ft deep and 21ft wide. While the site is often described as a henge, this is contested by some archaeologists on the basis that henges usually have an external bank, which is absent in the case of Brodgar.