Orkney's most iconic seastack lies at the end of a fabulously wild walk through Hoy.
Most people who reach Rackwick are bent on a nose-tonose view of the iconic sandstone column that features in every tourist brochure to both Orkney and Scotland. Standing 450ft (137m) high, this is Europe's tallest sea stack. Buffeted by ever-turbulent waves at its base, it makes for an absorbing and thrilling spectacle. To see it, you have to walk to it.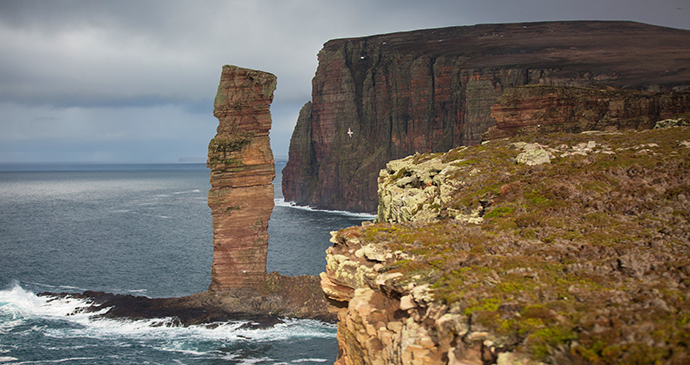 Rising from a pedestal of dark basalt lava, the Old Man of Hoy comprises fragile Old Red Sandstone intermingled with layers of flagstone that create distinctive slab-like ridges upon which nesting fulmars look tiny. Geologists reckon that the Old Man is a relatively recent creation: maps from 1600 and 1750 only portray a headland here.
Even more recently, he had two 'legs' that created a natural arch before one 'limb' was swept away by a storm in the early 19th century. This same combination of ocean and geology means that sooner rather than later the Old Man of Hoy will tumble into the sea. The name is – possibly – one of the few Gaelic names in Orkney, perhaps originating from 'allt' ('cliff') and 'maen' ('stone').
The summit was first conquered in 1966 by Sir Chris Bonington, Tom Patey and Rusty Baillie. At the top the trio built a cairn and lit a fire; Patey later reported that 'in our enthusiasm, it got out of hand and only collective action saved us from the inconvenience of a fast abseil down melting nylon'.