A visit to this minuscule building, which resonates with human emotion, is justifiably popular.
Less than half a mile long and scarcely any wider, Lamb Holm is a mere pebble at the foot of the mighty Mainland, yet it sees almost as many visitors as anywhere else on Orkney. This is, of course, because it is home to the ornate Italian Chapel, built by (Italian) prisoners of war in the early 1940s. La Bella Cappella Italiana, to give the chapel its full name, is perched on a windswept mound overlooking Holm Sound. A visit to this minuscule building, which resonates with human emotion, is justifiably popular.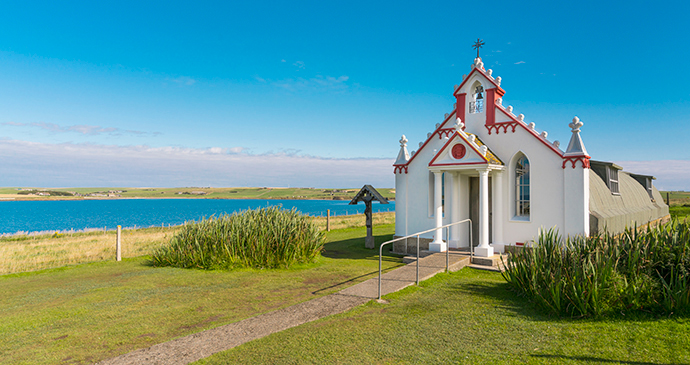 This ornate chapel is a truly enigmatic sight, despite its tiny size © Kenny Lam, VisitScotland
The chapel was built at Camp 60 in 1943–44 by covering two Nissen huts on the outside with concrete and coating them with bituminous felt. The artwork was completed by Domenico Chiocchetti; the wrought-iron work was undertaken by Giuseppe Palumbi, a trained blacksmith. They were joined by other felicitously named helpers – Bruttapasta, a cement worker, and Primavera, an electrician. All four were among 1,300 Italian POWs brought to Orkney to work on the Churchill Barriers. Outside the front door is a wooden carving of Christ on the Cross, gifted by the city of Moena, Chiocchetti's home town. Every so often, an expert delicately restores the blemishes that appear; most recently, in 2015, this was completed by Antonella Papa, an artist who has worked on the Sistine Chapel. Chiocchetti began by hiding the interior of the corrugated iron of the hut behind a façade of plasterboard which he then painted with trompe l'oeil brickwork and carved stone to give the impression of tiles and stonework friezes. An altar, altar rail and holy-water stoop were moulded in cement by Bruttapasta.
The interior of the chapel is exquisitely ornate, with magnificent wrought-iron framework and elaborate frescoes © Paula Fisher, Dreamstime
A ceiling passage leads to the altar where an image of Madonna and Child, painted by Chiocchetti, gazes down at you. The infant Jesus holds an olive branch while an angel holds a shield from Chiocchetti's home town, depicting a ship passing from a dark storm of war to the light of peace. The painting was inspired by the same image by the artist Nicole Barabino, on a card given to Chiocchetti by his mother. On either side are paintings of St Catherine of Siena and St Francis of Assisi. Lanterns were made from bully-beef tins, and both a bell and candlesticks were taken from the rods of a stair on an old blockship.
Bruno Volpi, another POW at Camp 60, once explained why so many POWs invested time and emotion in the project: 'it was the wish to show, first oneself and then the world, that in spite of being trapped in a barbed-wire camp, with one's spirit physically and morally deprived of many things, one could still find something inside that could be set free'.