Alnwick is one of the most vibrant and historically interesting market towns in Northumberland.

Gemma Hall, author of Slow Travel Northumberland
'Alnwick is ever under the spell of the dreamy past', a late 19th-century visitor to the town observed. Today, you might also say it is under the spell of Harry Potter, whose fans flock to the town's famous medieval castle, better known to some as Hogwarts.
For others, even without its fortress and celebrated gardens, Alnwick (pronounced 'Annick') is one of the most vibrant and historically interesting market towns in Northumberland, and easily reached from the coast by car in 20 minutes.
What to see and do
Alnwick Castle
Alnwick Castle is often referred to as the 'Windsor Castle of the North' in tourism literature on account of its size and imposing buildings. Like Windsor, it's home to royalty; well, Geordie royalty at least. The Duke and Duchess of Northumberland are historically one of the most powerful aristocratic families in England; they own huge amounts of land and property, including this almighty fortress.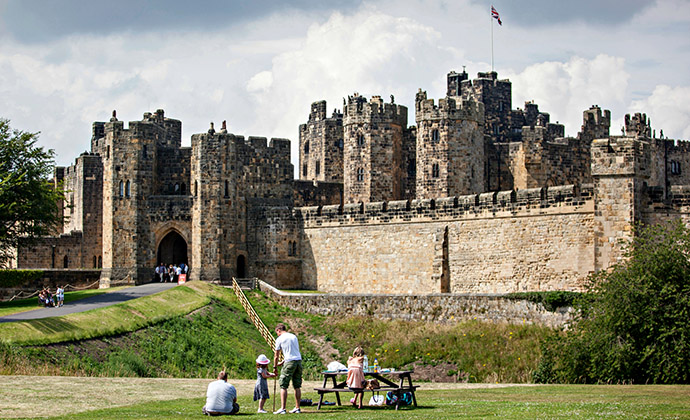 Ever since the filming of Harry Potter in 2000, the fortress has become known to many young visitors as Hogwarts School of Witchcraft and Wizardry. The managers are only too happy to indulge them and you'll find broomstick-riding lessons (as entertaining for spectators) among the array of wizard- and medieval-themed activities.
Alnwick Castle is clearly a huge hit with families, but there's also much to interest those with a love of porcelain, fine art (the castle houses a distinguished collection of Renaissance art, including eight paintings by Canaletto and three Titians) and, of course, gardens.
The Alnwick Garden
The gardens at Alnwick are unashamedly bold and contemporary and designed to thrill. You can easily spend a whole afternoon – or day – here and you'll find children are entertained as much as garden lovers are absorbed by the plant collections.
The centrepiece is the Grand Cascade, a huge modern waterfall lined with fountains that plunges over many tiers. Below, children drive toy dumper trucks under the spray of water (parents in the know come prepared with swimsuits). If children do manage to escape getting wet here, they probably won't at the nearby Serpent Garden, where a series of interactive contemporary installations use water to creative effect.
St Michael's Church
'Don't tell me the Victorians were good engineers,' said the warden pointing to a bowed wall that began to tilt in the years following a 19th-century reconfiguration of the medieval church. Despite this, St Michael's certainly gives the appearance of strength and steadfastness with its short, castellated tower supported by wide buttresses, and retains much of its earlier structure built under King Henry VI in 1464. The unusual turret on the southeastern corner of the church served as a lookout point during the centuries of Border fighting.
Step inside and you'll find many more curious features including, in the baptistery, a medieval statue depicting King Henry VI and a serene looking martyr whose body is pierced with many arrows. At the far end of the north aisle is a stone carving above one of the pillar capitals of an angel holding a Catherine wheel (to the right of St Catherine's Chapel).
Hulne Park
Not far from St Michael's Church is the imposing gateway to Hulne Park – a huge area of woods and open parkland (formally a hunting ground) enclosed by walls and owned by the Duke of Northumberland. Several miles of footpaths and paved tracks open to the public wind through the trees, over stone bridges, past dells and across open grasslands.
Shopping
A farmers' market fills Alnwick Market Place on Fridays from April to October where you'll find plenty of Northumbrian produce on sale. Saturday's market is a mixture of crafts, plants, local artwork and clothing stalls with the odd local produce table.
At Alnwick Station, Barter Books oozes old-world charm with its decorative ironwork, working station clocks, wonderful waiting room café, open fires and model trains that trundle along on a track above the rickety bookcases. Between two bookshelves is a stone water basin (still with its brass cups attached to chains) once used by railway passengers.
Nearby accommodation
Where to go in Northumberland