This arable pastoral embroidery hides a scattering of honey-coloured hamlets and villages, one of which was my home for a while.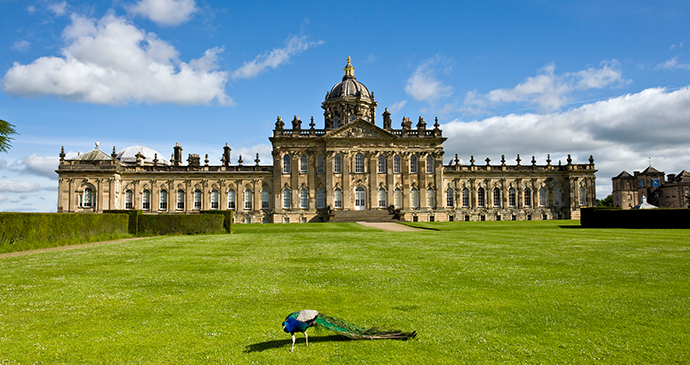 Castle Howard still does what it was always designed to do – dominate and impress © Mike Kipling
If Yorkshire is England in miniature, then this is its Cotswolds. The Howardian Hills are gentle, rolling and agricultural, with more than their fair share of trees; no big forests but some sizeable woods and lots of clumps and copses, dark pillows lying on a rumpled patchwork quilt of a landscape. This arable pastoral embroidery hides a scattering of honey-coloured hamlets and villages, one of which was my home for a while. It is no coincidence that the look and feel of the place is so similar to the Cotswolds as it is the same Jurassic limestone that underlies both, prompts a similar land use, and forms the warm, yellow stone walls of the old buildings.
This is archetypal well-off countryside: sleepy, self-contained and quintessentially English, with each village seeming to have its old manor house, very old church and huge vicarage. I can easily imagine Miss Marple taking tea with the Colonel in Bulmer or cycling past the green in Hovingham. The Edwardian landed gentry feel to this place is no illusion. Feudal old England is alive and well here, with a fair proportion of the Howardian Hills still owned and run by three families as their country estates. The Wombwells rule the roost in the west at Newburgh Priory near Coxwold, the Worsleys' family home is Hovingham Hall but pride of place for pomp, opulence and grandeur must go to the Howards. Not only do they have a castle named after the family, but a range of hills named after their castle; now that is true arrogance – oops, sorry, I mean influence.
Nunnington sits alongside the River Rye just as it leaves the Howardian Hills Area of Outstanding Natural Beauty (AONB) and slides lazily out into the floodplain of its own making, Yorkshire's fenland. Scenically, lower Ryedale is nothing to write home about. Most people would go as far as to say it was boring, unless they had a thing about crop rotation, yields per acre or the relative merits of David Brown tractors over Massey Fergusons, because this is prime arable farming country. It does have attractions though; its rivers, the Rye and its tributaries, are wonderful linear reserves of nature and tranquillity.
The River Rye empties into the bigger River Derwent. Three miles below this confluence sits the town of Malton, on the north bank, with its twin Norton facing it from the other side of the river. This has always been an important river crossing even back to Roman times, and Malton is still very much the social hub of this region. When people from Terrington, Hovingham or Welburn say that they are going into town, this is where they mean; likewise, local farmers taking their beasts to market will also head this way. Malton is a market town, but a real one that still does what it says on the tin. Downstream from Malton the River Derwent winds its way south, through Kirkham gorge and away down the western edge of the Wolds, finally joining the sea at the Humber estuary.