What I love most about the modern River Esk are its moments of wild inaccessibility.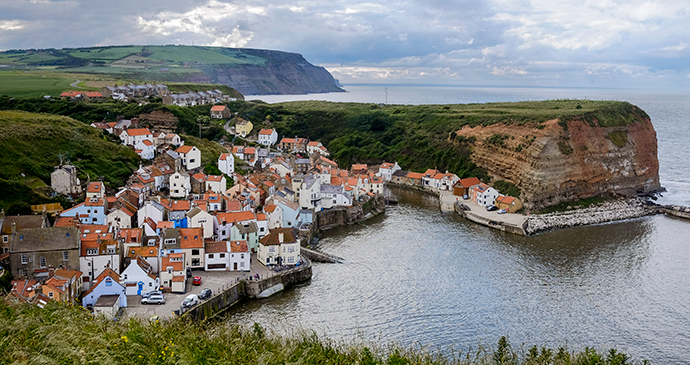 With fishing cobbles bobbing at the harbour and the mass of orange pantiled houses, views of Staithes have been beloved by artists for centuries © Tony Bartholomew, NYMNP
Eskdale, the 'valley of the winding river', is at the heart of the North York Moors, and the River Esk is the life-blood of the dale. It is only 25 miles long but it punches way above its weight; it has more charm, variety and points of interest than many rivers twice its size. Until recently the Esk was the only salmon river in Yorkshire, and is the only site in eastern seaboard England with a population of freshwater pearl mussels.
What I love most about the modern River Esk are its moments of wild inaccessibility. Long stretches where it wanders away from civilisation, often plunging into narrow ravines and crag-shadowed gorges where no tarmac road dare follow, and the only way to explore it is by foot or by canoe.
Eskdale ends at the point where the river enters the sea, the entrance to Whitby harbour, with this last leg of its journey in a surprising direction. Because of a geographical quirk, this stretch of the Yorkshire seaboard faces due north, so consequently, the coastline to the left, towards Teesside and Scotland, runs away westwards – and what a coastline it is.
The first two miles of it is beach, until the sand ends at a village called simply Sandsend – the first of a string of small, former fishing communities, tucked into what little shelter they can find behind rocky headlands, known locally as 'nesses' or 'nabs'. Resembling a giant crocodile's snout, Sandsend Ness is the first of these, and the start of the dark, Jurassic, shale cliffs rising progressively higher the further west you go. Runswick Bay is the next haven, hiding behind the heights of High Lingrow, followed by the derelict iron-mining harbour of Port Mulgrave. Further west still, at Staithes a beck has cut a way through the cliffs to form a spectacular, natural walled harbour. Beyond looms the huge bulk of Boulby Cliff, the highest point on the east coast of England, and reputedly the burial place of famed Saxon warrior Beowulf.