Savouring the tastes of North Yorkshire
Beyond Yorkshire pudding and Wensleydale cheese, England's largest county has never been particularly famous for its food but, in gastronomic matters, as in so many other areas, North Yorkshire surprises with its unexpected mix of rustic, no-nonsense and sophistication. What is certain is that there are some truly talented artisans making the most of locally produced, high-quality ingredients.
Yorkshire can't compete in the climate stakes with the West Country and it doesn't have the fertile soils of the Fens, but what it has in spades is variety. Each area covered in this book has a distinct terrain which often determines food production. The heather-covered hills of the North York Moors produce some of the finest honey in the country. Sometimes for sale at the point of production, honey is usually on sale at farmers' markets and village shops. Milk from the local dale farm herds goes to produce cheeses, such as those from the Botton Creamery and ice cream to die for made by Beacon Farm and Tearewoods.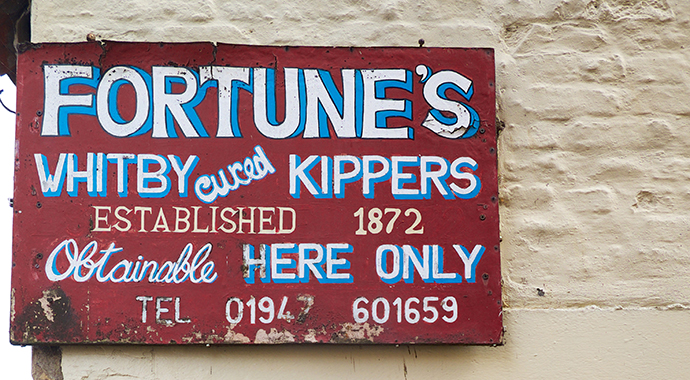 The big coastal fishing fleets might be a thing of the past, but top quality seafood is still landed all along the Yorkshire coast. In Staithes, catch your own lobster on a Real Staithes trip before cooking and eating your haul on the beach, or perhaps head down the road to Whitby for some traditional Fortunes oak-smoked kippers. Alternatively, the seafood can come to you: Peter Thundercliffe in his mobile fishmonger van brings fresh Scarborough fish to shops and farmers' markets all over the region daily. Sea fish are expected, but maybe not local rainbow trout; limestone spring-water near Pickering allows these fish to be cultured at Willowdene Farm, where an unexpected crop of watercress is also harvested.
Well-drained, limey soils, like those in the Howardian Hills and Wolds, favour fruit production. Apples from the orchards at Ampleforth and Suffield produce fine juices and ciders, grapes from Ryedale Vineyards go to make award-winning wines, and the sloe crop from local hedgerows is made into all sorts of delights by the clever folk at Sloemotion. Meanwhile, York has a history of importing cocoa beans from the tropics and converting them into fine chocolate. The glory days of Rowntree's, Terry's and Fry's may be in the past, but small-scale, traditional chocolate-making is still happening at the York Cocoa House.
And the beer? North Yorkshire has more breweries than any other county and some of the best feature in this book. The Great Yorkshire Brewery in Cropton is a large and well-established business that exports so much beer to the Far East that it has a Chinese website; Wold Top Brewery is much smaller, but its beers win awards every year (Marmalade Porter – Best UK Porter of 2017). The Goodmanham Arms does brewing as it always used to be done – in the back of the pub, to be drunk by its own customers and those in a few neighbouring pubs.
Accommodation
The following places to stay in the North York Moors & Yorkshire Wolds have been selected for their good location and because they embrace the Slow mindset, either in terms of their overall feel or because they embody a 'green' approach.
Cleveland & Hambleton
B&Bs
Helmsley Garden Cottage and Railway Carriage Bondgate, Helmsley; 01439 771864; www.helmsley-gardencottage.co.uk. This little oasis is as luxurious as any of Helmsley's three Market Square hotels but, although still very central, is far quieter and more intimate. There are three choices of accommodation: B&B for two (three at a push) with sole use of the cottage; B&B for four in an amazing converted Victorian railway carriage in the back garden; or self-catering in the railway carriage. What makes this place extra special is the quality of service and attention to detail given by the owners Louise and Richard Craig.
Laskill Country House Near Hawnby YO62 5NB; 01439 798265; www.laskillcountryhouse.co.uk. The tiny hamlet of Laskill in Bilsdale is almost entirely a family run holiday village. Mandy is responsible for the house with its sumptuous B&B facilities (one four-poster and two other doubles) and her mum Sue runs The Grange next door with more B&B and seven self-catering cottages sleeping two, four or six people. You could have a quiet, get-away-from-it-all stay with excellent walks from the door, the ancient Quaker meeting house over the road and fly-fishing on the nearby River Seph; alternatively you could do what I did and take over most of the accommodation for a family event – my wedding, as it happens. Prices are reasonable and dogs are welcome.
Self-catering
Shepherd's Rest Low Easby TS9 6JQ; 01642 711676; www.shepherdsrestgreatayton.co.uk. A self-catering cottage for four (two en-suite double/twin rooms) in the tiny hamlet of Low Easby near Great Ayton, with excellent hill and woodland walking on the doorstep. The building is a converted 18th-century barn powered sustainably with a ground source heat pump and wood-burning stove. Inside, the cottage is light and airy with a rustic, agricultural feel to the décor. The owners live in the old farmhouse next door. No dogs.
Campsite
Lordstones Country Park Carlton Bank TS9 7JH; 01642 778482; www.lordstones.com. This iconic spot, nearly a thousand feet up at the summit of Carlton Bank, has had a famous café for many years – walkers would camp rough beside it. Since its big recent refurbishment things are slightly different; the café is much expanded and there are a range of camping styles on offer. For up to four people there is a choice of wooden camping pod, large canvas bell tent or yurt. All have proper beds and you can bring your own bed linen or hire it from the site. Traditional campers with their own tents can rest easy because the site also has an ordinary camping field with electric hook-ups if desired.
Eskdale
Hotel
La Rosa Hotel East Terrace, Whitby YO21 3HB; 01947 606981; www.larosa.co.uk. This classic early Victorian hotel once frequented by Lewis Carroll has been given the 'La Rosa' treatment and is furnished almost entirely with curios and antique finds from auctions, flea markets and car boot sales. All eight double rooms are themed, with Stoker for instance full of Dracula memorabilia and Arabesque like a sultan's boudoir. The attic is a self-contained flat for six people called the Crow's Nest and featuring three double bedrooms and a dressing-up box.
B&B
Bank House Farm Glaisdale YO21 2QA; 01947 897297; www.bankhousefarmhostel.co.uk. Bank House Farm is such a welcoming corner of the beautiful valley of Glaisdale that it's a given you would want to stay here. The only choice is whether to go for the cosy comfort of B&B in the farmhouse where Chris and Emma Padmore will look after you personally, or the more independent options of the camping barn or campsite. Larger groups can also opt for sole-use of the bunk barn which sleeps up to 11 people. This is a great base to walk or bike from; the woodlands to the east of the farm are fabulous and westwards a quiet circular cycling route takes in the whole of the dale bottom. Dog-friendly throughout.
Self-catering
The Boathouse Whitby harbour YO22 4BH; 01947 893201; www.welovewhitby.com. You could hardly get more central to town than this as The Boathouse is actually 'afloat' in the harbour (by the lifeboat pier) and accessible only by walking along a gangplank straight into the living room. This room also has a dining area that could seat six, a task that would involve four guests as the building only sleeps two. The one bedroom, with a double bed and en-suite bathroom, is upstairs. The seaward side of the building is surprisingly private and has a sizeable decked area, ideal for watching boats coming and going. A fully fitted kitchen lies below deck.
Campsite
La Rosa Campsite Murkside YO22 5AS; 01947 606981; www.larosacampsite.co.uk. A wooded hillside between Egton Bridge and Goathland is the location of this truly amazing place, so well hidden that for years I passed it every week without knowing of its existence (a small sign displaying a red rose marks the access track). Describing La Rosa is almost as difficult as finding the place; it is 'sort of' camping and 'sort of' caravanning but in a hotchpotch of themed sheds, vehicles, vans and tents that the creators describe as 'a fantasy-land full of nostalgia, romance and all things kitsch, camp and bohemian.' Low environmental impact is a premium so lighting is candles, heating is from woodburners and the toilets are compost-loos. No dogs. If this all sounds a little too rustic, the nearby Swallow Barn has proper stone walls, electricity and a double bed.
Runswick Bay Caravan and Camping Park Hinderwell Lane, Runswick Bay TS13 5HR; 01947 840997. Despite its size (32 pitches and separate tent field) this is a sheltered and secluded site, hidden from the road but only three minutes-walk from the beach. Lots of trees add to the sense of privacy, and pitches are flat and well-drained. Prices are very reasonable and dogs on leads are welcome.
Eastern Moors
B&B
Chestnut Cottage High St, Ebberston YO13 9PA; 01723 859416; www.chestnutcottagebandb.com. The luxury experience provided here, by hosts David and Adele, wouldn't be out of place in a top-class hotel – two en-suite double bedrooms and sumptuous breakfasts. The Grapes Inn is handily placed over the road for evening meals. The cottage's best feature is most definitely at the back where a huge garden and orchard sweep up the hillside to the idyllic summerhouse at the top, looking out over the Vale of Pickering towards the Yorkshire Wolds. Keep going past the summerhouse and you're in Chafer Wood, a nature reserve managed by the Yorkshire Wildlife Trust and containing Alfred's Tower, a memorial commemorating the fatal wounding in battle of Saxon King Alchfrid.
Self-catering
Boggle Hole YHA Robin Hood's Bay YO22 4UQ; 0845 371 9504; www.yha.org.uk. This unusual building is not in Robin Hood's Bay village but on Robin Hood's Bay itself, Boggle Hole being an old smugglers access point to the beach. The building is a big ex-watermill tucked into the steep valley of Mill Beck just before it flows into the sea. It boasts 85 beds, a café, bar and meeting room but by far its best attributes are proximity to the beach, wild cliff coastline and its isolation. Boggle Hole is only accessible on foot, either from a car park a quarter of a mile up the hill or Robin Hood's Bay half a mile along the beach (when the tide is out!). As this is a youth hostel, the rooms are basic but they are very cheap and there are lots of smaller twin and family rooms including some en suites. Ask for a quiet one if there's a school party in.
Oscar Cloughton Station, YO13 OAD; 01723 870896; www.cloughtonstation.co.uk. Oscar isn't the only place you can stay at Cloughton's old railway station but he is certainly the most unusual. He is a MK1 railway carriage built in Derby in 1962 and moved here in 2004 to be converted into a self-catering cottage for six people (one en-suite double, one twin and one bunk room). Other options on-site are another six person self-catering venue, this time in the Old Goods Shed and B&B in the station itself. No dogs.
The Pigsty Fylingthorpe YO22 4TH; 01628 825925; www.landmarktrust.org.uk. What a great thing to be able to say … the place I stayed in on holiday was an absolute pigsty! But that really is what this building was. Squire Barry of nearby Fyling Hall visited the Mediterranean in the 1880s and was very taken by the Classical architecture he saw there. On his return he decided to build his new pigsty in the same style, columns and all. The Landmark Trust has converted it into a self-catering cottage for two with one double room at its usual not-so-affordable price. No dogs.
Worfolk Cottage Staintondale YO13 OEL; 01482 872403; www.worfolkcottage.co.uk. Back in the early 18th century a Staintondale Quaker by the name of William Worfolk bequeathed money in his will towards the building of a meeting house locally, so one was constructed with this cottage adjoining. The meeting house is long gone but the cottage still belongs to the Society of Friends and they have renovated it with a respect for the environment informed by their religious beliefs. Worfolk Cottage is officially carbon-neutral due to a combination of ground source heat pump, wind turbine, solar panels and top class insulation. It is now offered as self-catering accommodation for up to 14 people in five bedrooms and at a very reasonable rate.
Howardian Hills & Ryedale
Hotel
The Old Lodge Old Maltongate, Malton; 01653 690570; www.theoldlodgemalton.co.uk. The Old Lodge is a 16th-century mansion that has retained its Tudor feel despite offering luxurious 21st-century facilities. It is built on the site of the Norman Malton Castle (I remember watching a Time Team dig here on TV) and the old castle gardens are still there behind the hotel. Relaxing in these rural acres you would never guess that the town centre was so close, but the Old Lodge is surprisingly central – just a minute or two on foot from the shops and pubs of Malton and a great base for exploring the town. This is a popular wedding venue so, if you want a quiet stay, it's worth ringing to check there's not one on while you're there.
Self-catering
Cold Harbour Shed Hovingham YO62 4NF; 01924 502256; www.gorgeouscottages.com. Never was a place more unfairly named. Cold Harbour is an old-fashioned term meaning 'comfortless shelter for wayfarers' and this cosy little self-catering barn conversion is certainly not that. With one en-suite double bedroom, kitchen and living room it sleeps just two people but there is no shortage of space, especially outside in the garden and orchard. What makes staying here a particularly special experience are the little thoughtful extras like complimentary wine on arrival, real coffee- and tea-making basics provided, bikes to borrow and fruit and herbs to pick from the garden. All this and reasonable rates – a welcoming shelter for wayfarers after all (including dogs).
Campsite
Jollydays Luxury Camping Village Farm, Scraylingham YO41 1JD; 01439 748457; www.jollydaysglamping.co.uk. What the Van Outersterp family set up here in 15 acres of woodland in 2008 is camping but probably not as you've ever known it – more like staying in a hotel in the woods except that your walls are made of wood or canvas and you hear owls in the night, not cars. Jollydays have 22 'tents' ranging in size and opulence from Woodcutter Huts (sleeping four on two sofa-beds with a small stove and heater), to top-of-the-range luxury Woodland Tents (six-berth, en suite with four-poster beds!). This is a great place to bring children and the owners do their best to maximise family enjoyment by not allowing groups of adults to stay in school holiday time. It's not cheap to stay here, especially if you choose to pay extra for on-site activities like cycling, bushcraft and archery, but it's a unique experience and many happy campers come back time after time.
Wolds
B&B
Manor Farm Thixendale YO17 9TG; 01377 288315; www.manorfarmthixendale.co.uk. A Victorian edifice that was once part of the Sledmere Estate, this is still a working farm run by Charles and Gilda Brader. They grow a variety of arable crops and keep sheep, highland cattle, geese and chickens. Gilda also breeds thoroughbred horses and designs gardens. Somehow they also manage to find time to run a fine B&B service in the farmhouse. Up to four guests can stay in a private self-contained flat comprising two bedrooms (double and twin), a shared bathroom and a sitting room. Only one booking is taken at any time. No dogs.
Wold Cottage Wold Newton YO25 3HL; 01262 470696; www.woldcottage.co.uk. Katrina and Derek Gray offer a variety of good accommodation choices at Wold Cottage. B&B in one of the six en-suite bedrooms would be my choice. Katrina is a bit of a wiz in the kitchen and has won awards for her breakfasts. Prices are a little higher than average. Self-catering is possible too, in one of two converted farm buildings that both sleep four to six. One of the farm's fields is available for touring caravans and tents.
The Wolds Retreat Kilnwick Percy YO42 1UF; 01759 304832; www.thewoldsretreat.co.uk. This is a separate building within the grounds of Kilnwick Percy Hall which offers B&B (two doubles en suite, one twin en suite and two singles). Prices are reasonable but there is a two night minimum stay. If you wish to stay only one night the alternative is a more basic room in the hall itself which doubles as the Madhyamaka Kadampa Meditation Centre. This Buddhist organisation owns the whole estate so wherever you stay you will benefit from the relaxing sense of peace and tranquility that seems to pervade everywhere.
Self-catering
Skipwith Station North Duffield Y08 5DE; 01757 282288; www.skipwithstation.com. Skipwith Station lies outside the boundaries of this book but it is handy for the Pocklington Canal and the city of York and certainly qualifies as a special place to stay. Or should I say special places to stay as there is more than one choice on offer. In memory of the Derwent Valley Railway that ran through here until 1985, owners Lizanne and David Southworth have converted three old railway carriages and a loading and storage bay into self-catering accommodation sleeping from two to six, some of which are dog friendly.
York
Hotel
Grays Court Chapterhouse St, York; 01904 612613; www.grayscourtyork.com. If you like staying in old buildings with an interesting history, then this could be your perfect hotel because Grays Court claims to be the oldest continuously occupied building in the country.
Commissioned in 1080 by the then Archbishop of York for the Treasurer of the Minster, it has been owned by the Church or the Crown ever since … until 2005 when it was sold to the current owner, Helen Heraty. She has overseen its development into a five-star boutique hotel with 11 themed double rooms, family rooms and suites, serene gardens and private access to the city walls. If you were expecting to pay through the nose for this historic opulence you would be right, but Grays Court is a very special place.
B&B
The Bar Convent Blossom St, York; 01904 643238; www.bar-convent.org.uk. An active Convent and ex-girls Convent school is perhaps a surprising bed and breakfast venue, but the sisters of the Bar Convent Trust do it very well. As a place to stay while visiting York this place has almost everything going for it; the staff are incredibly welcoming, the breakfasts have won awards, it has extensive, peaceful gardens in which to relax, and it also sits right beside the city walls. Most of the comfortable rooms are en suite. Despite all this, prices are extremely reasonable.
Self-catering
The Music House Apartment High Petergate, York; 01904 610478; www.cafeconcerto.biz. The highly regarded Café Concerto has a musical theme and this is extended to a very homely two-bedroomed (one double room and one family room) apartment above the restaurant. The location, in the shadow of the Minster, couldn't be more central and the fact that there's a top-class eatery downstairs is a big plus – especially as they do room service meals. Stays are available for two nights minimum and with lower rates for mid-week.
The Nottingham Trader Ferry Lane, Bishopthorpe YO23 2SB; 01904 705824; www.yorkmarine.co.uk. The Nottingham Trader was an 85-foot working barge on the River Trent but now in her retirement she has become a houseboat permanently moored on a bank of the River Ouse. The interior has been converted into a comfortable living space for seven people (two doubles and one with bunks and a single) and two dogs. The houseboat is available to hire for weeks or half-weeks and although it's not cheap, the price does include use of a small motor boat for chugging into the centre of York or just messing about on the river.