The gorgeous Dalby Forest in the North York Moors is an ideal place to go stargazing © RJB Photographic, NYMNPA
January
Go stargazing in the Great Yorkshire Forest
Dalby Forest is an official dark sky discovery site and the observatory there hosts stargazing evenings. What better time to do it than the blackest nights of midwinter.
February
See wild northern goings-on in York
The Norse heritage of York is celebrated this month, during the Jorvik Viking Festival. Prepare to be pillaged.
March
Cheer on the riders of the oldest horse race in England
Or even enter the Kiplingcotes Derby yourself, as anyone can. Just turn up before 11.00 on the third Thursday in March with your £4.25 entry fee and a horse.
April
Feel floral in Farndale
The famous wild daffodils of Farndale, near Hutton le Hole, are in full bloom at the beginning of the month.
May
Savour the flavours of the Malton Food-lovers Festival
Whit Bank Holiday weekend sees chef James Martin's home town put on a feast of a show with cookery schools, celebrity interviews and demonstrations and a fabulous farmers market.
June
Take a boat trip to the biggest seabird colony in England
Together, Bempton Cliffs and nearby Flamborough Head hold the biggest concentration of cliff nesting seabirds in England. The best vantage point to see all the gannets, auks and kittiwakes is from a boat. The RSPB organise trips from Bridlington.
July
All village life is on show at these summer fairs
Check out the charming goings-on at the Ryedale Show, Saltersgate Show and Roxby Show and get a taste of life in Yorkshire.
August
Watch the North York Moors turn purple
The North York Moors National Park protects England's largest expanse of heather moorland. Late August is the time when trillions of flower buds open, painting the hills purple – a sight not to be missed.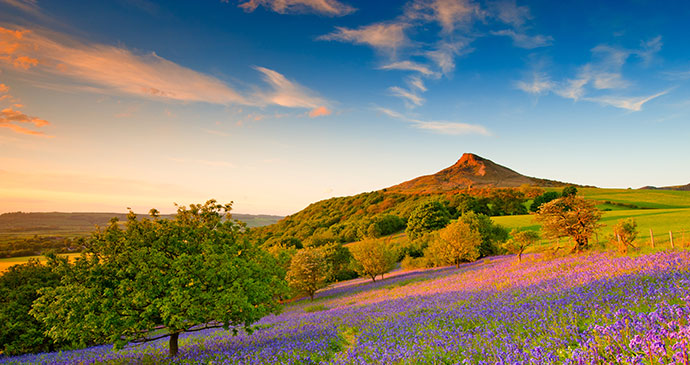 August is the perfect time to watching the North York Moors explode in a riot of stunning purple, such as here at Roseberry Topping © Colin Carter, NYMNPA
September
It's art all right, and salty with it
Staithes Art Festival is a brilliant celebration of the sea, the village and its historic association with the visual arts. It takes over the whole place on the middle weekend of September.
October
Brilliant Booze in Beverley
Great beer is available in Beverley all year round, but there's nothing like the first week of October when the Beverley Real Ale Festival takes place.
November
Spectacular Gothic Victoriana in Whitby
What started a few years ago as an informal get-together by a few Dracula enthusiasts on the nearest weekend to Halloween has become the major music, fashion and spectator event that is Goth Weekend.
December
Enjoy the festive season in Olde Yorke
There are all sorts going on in York during the run-up to Christmas – plan it right and you could catch the Early Music Christmas Festival, 'From Yorkshire With Love' artisan shopping, St. Nicholas' Street Market and carols in the Minster, all on the same weekend.