Without doubt this area is the most popular part of Exmoor – and deservedly so. It really does have everything, and all within walking distance: a pretty seaside village, a cliff railway, a tumbling river cutting through forested slopes, the heather-clad moor and a dollop of recent history. Painters and poets have rhapsodised about its beauty: Gainsborough thought it the perfect place to paint, and Shelley lived in Lynmouth for nine weeks with his first wife.
Writing in 1928, S P B Mais felt that: 'Ordinary standards simply won't do to describe this corner of Devon. One realises dimly and dumbly that no other combe of one's acquaintance comes quite so obligingly near to the hotel door to show its beauty of wood or majesty of cliff.'
What to see and do
Lynton
Lynton's sturdy Victorian houses and extraordinary town hall are surprising in a place that otherwise feels like a modern, upmarket holiday centre. The town hall is described in The Shell Guide of 1975 as 'a jolly edifice, "15th century" stonework, "Tudor" half timbering, and "Flemish" barge boarding'. The former Methodist Church has been put to good use: the church itself houses the rewarding Lyn Valley Arts and Crafts Centre and the hall is now a cosy 70-seat cinema, a charming place run by volunteers.
Lynton has a particularly good selection of accommodation, most with superb views, and some excellent shops and restaurants. Even with such a range of craft shops the Arts and Crafts Centre, next to the town hall, stands out for its range of high-quality but affordable crafts, which includes preserves, honey and soap.
Notable shops include Lyn Candles on Lee Road, selling a huge range of the eponymous things with great enthusiasm, the Lynton Sheepskin Shop, also on Lee Road, with a comprehensive range, and John Arbon textiles down Queen Street with lots and lots of pure wool socks.
Linking Lynton and Lynmouth is the cliff railway, a masterpiece of simple engineering and a model of 'green' energy. The two carriages are counter-balanced by water. Fill the tank at the top, and it's heavy enough to pull the other carriage up as it descends. We watched the 'driver' at the bottom judge the amount of water to let out to counterbalance not only the weight of the carriage but the passengers as well. Really neat, and a great way to get to the top of a 500ft cliff. The year 2015 marked 150 years of continuous operation. Dogs and bicycles are allowed. Before the road was built in 1828, tourists were transported to Lynton on donkeys or Exmoor ponies, as were all the goods arriving in the harbour.
Lynmouth
Most people staying in Lynton walk down to Lynmouth and take the Cliff Railway up. It's a very pleasant, steepish stroll down, the path lit by solar-powered lamps donated by different organisations.
Lynmouth is clearly very much older than its partner and very pretty with its harbour, cliffs and wooded hillsides. Close to the Cliff Railway on The Esplanade in the western part of Lynmouth is The Pavilion and the Exmoor National Park Centre. It has a café, a well-stocked shop with maps and guides, displays of wildlife, webcams, an audiovisual presentation giving an overview of Exmoor and a microscope with which you can study marine creatures collected on a guided tide-pooling excursion.
Continuing to the harbour, you can take a boat trip to Valley of Rocks and Lee Bay or continue strolling and buy an ice cream from one of the dozen or so outlets.
The Lynmouth Flood Memorial Hall, on pedestrianised Lynmouth Street, houses two exhibitions. On the ground floor is the story of the famous lifeboat rescue of 1899, while the upper floor is given over to the great Lynmouth flood of 1952 when, after torrential rain on Exmoor, a wall of water carrying broken trees and boulders washed down the East and West Lyn rivers. It happened in the dead of night, with the electricity supply one of the first casualties, so all the terrified villagers could do was listen to the roar of the approaching torrent. Many houses were destroyed and 34 people lost their lives. As with all major disasters, this has its own conspiracy theory – that at that time the government was experimenting with cloud seeding.
Some visitors only get as far as the main street, Riverside Road, and the pedestrianised Lynmouth Street. This is a pity since beyond this, on Watersmeet Road, is a working pottery, Lynmouth Pottery, with a range of ceramics and some charming sculptures.
Watersmeet House
The less precipitous road to Lynmouth and beyond is Watersmeet Road, which takes you past one of the area's most popular tea rooms, the National Trust-operated Watersmeet House. Most people walk here from Lynmouth but there is a (paying) parking area on the road above with a steep path down. Everything about this former fishing lodge is perfect: the choice of snacks and cakes, and especially the location.
The Valley of Rocks
The Valley of Rocks is accessible by car, but it's such a lovely walk that if you can it's well worth doing on foot from Lynton. The valley, which would be unexceptional on Dartmoor, is quite extraordinary on Exmoor where the soft sandstone has left few sharp contours. The most likely explanation for these heaps and castles of rock is that this was once a river valley, the boulders being deposited during the ice age, before the river changed its course. Glaciation and weather erosion did the rest.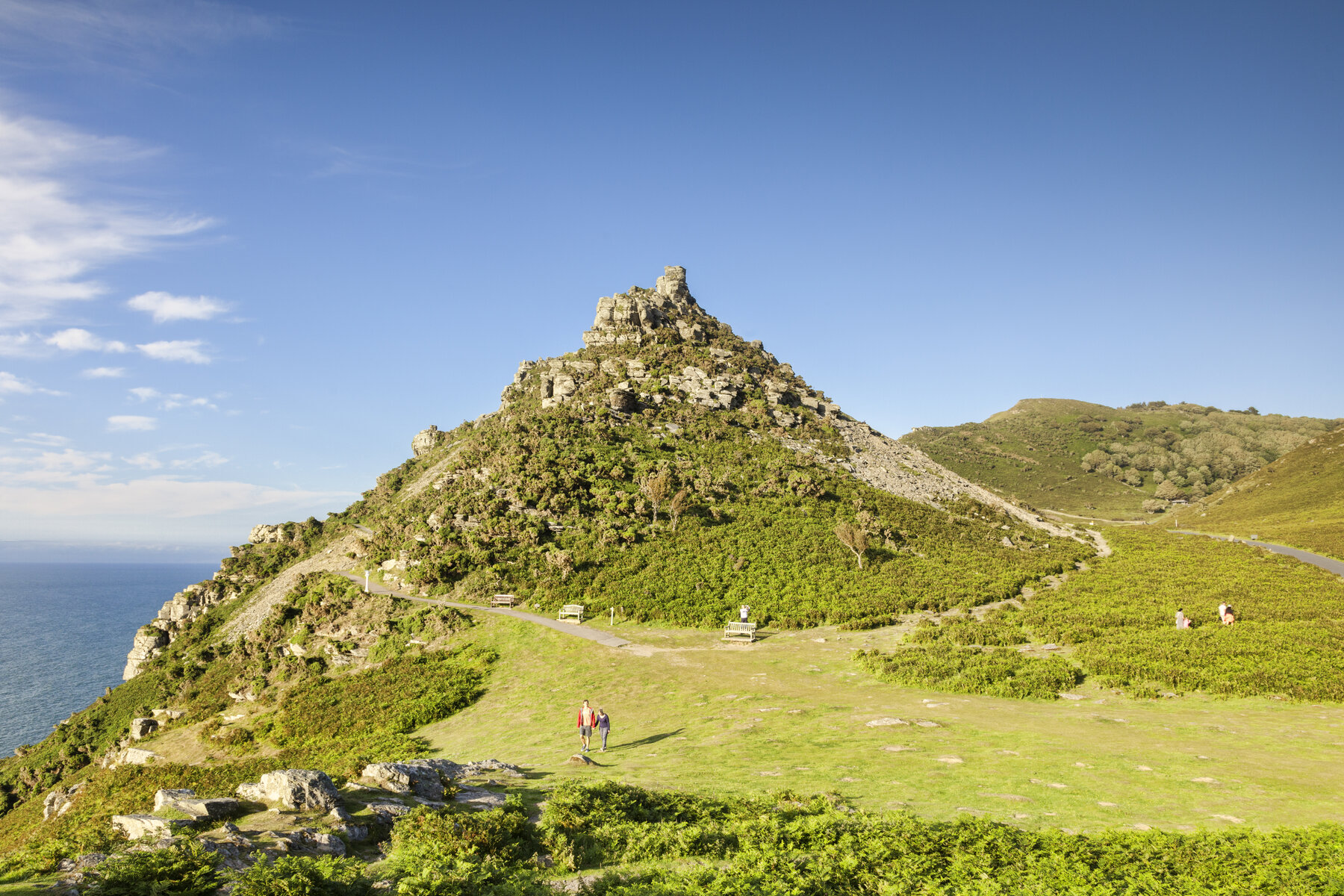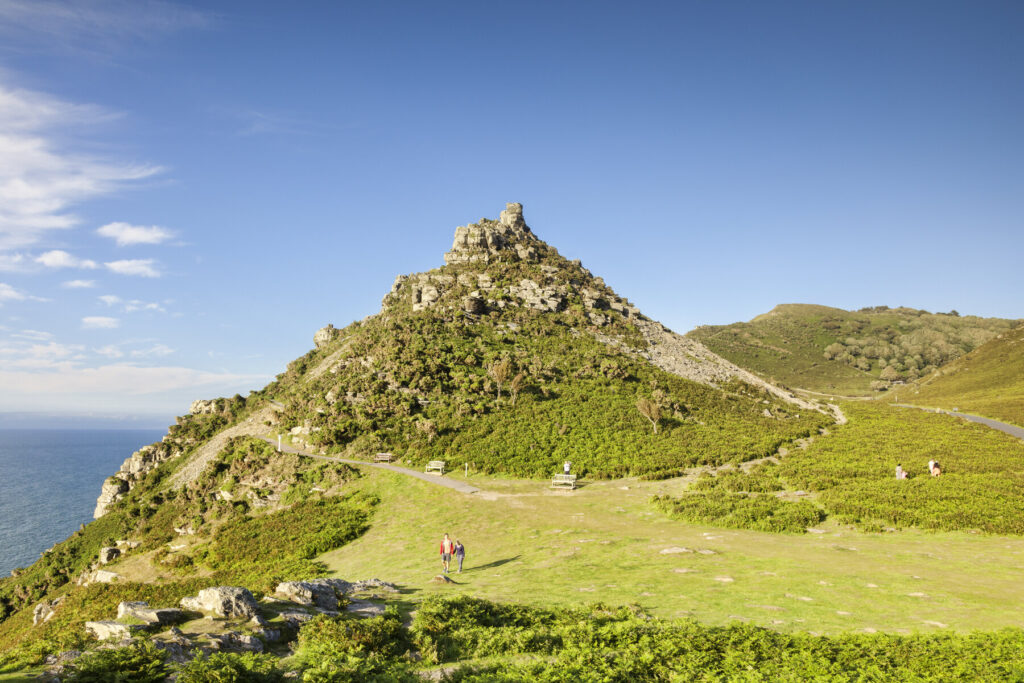 The place was already well known when R D Blackmore wrote Lorna Doone in the 1860s. The hero John Ridd goes there to consult a wise woman, noting that 'foreigners, who come and go without seeing much of Exmoor, have called [it] the "Valley of Rocks".' The rocks already had their names: 'On the right hand is an upward crag, called by some "The Castle", easy enough to scale… Facing this, from the inland side and the elbow of the valley, a queer old pile of rock arises, bold behind one another, and quite enough to affright a man, if it only were ten times larger. This is called the "Devil's Cheese-ring" or the "Devil's Cheese-knife" which mean the same thing, as our fathers were used to eat their cheese from a scoop; and perhaps in old time the upmost rock… was like to such an implement if Satan ate cheese untoasted.'