Suggested places to base yourself
Getting there and around
Suggested places to base yourself
These bases make ideal places for exploring Norfolk:
Cley-next-the-Sea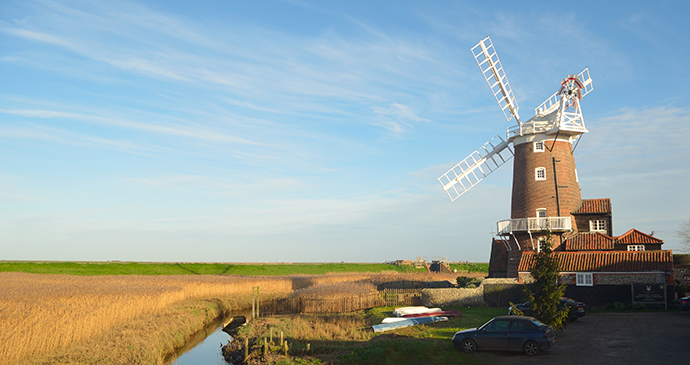 Cley Mill is a north Norfolk landmark © Martin Charles Hatch, Shutterstock
This coastal birding Mecca is the ideal base for keen ornithologists as well as a good centre for bracing, briny walks through marshes and along the coast.
Wells-next-the-Sea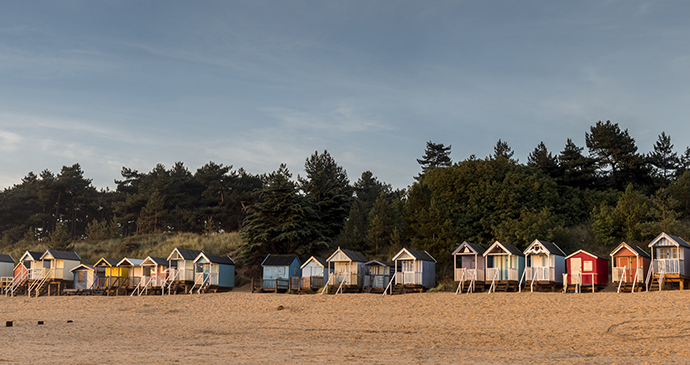 Colourful huts on the beach at Wells © Richard Bowden, Shutterstock
The perfect compromise for staying on the coast – a small resort and former fishing port with excellent walking close to hand and easy road access east and west to other parts of the coast.
Brancaster Staithe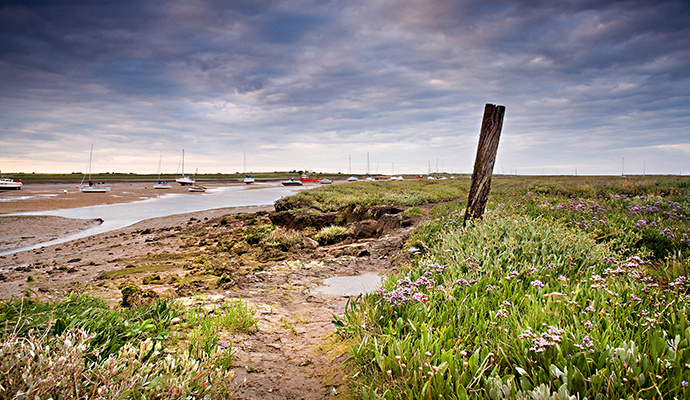 Brancaster is an ideal base for those wanting to walk the Norfolk Coast Path © Norfolk Coast Partnership
One of several attractive villages on the lovely stretch of the Norfolk coast, this makes an ideal centre for walking sections of the Norfolk Coast Path. There are good bus connections along the coast in both directions.
Aylsham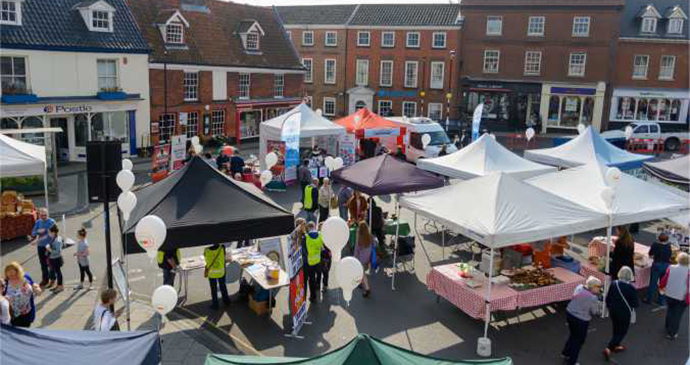 Aylsham holds an annual food festival which highlights the benefits of slow food © Slow Food Aylsham
Norfolk's first Slow town, this charming historic market town is perfectly placed for expeditions to north Norfolk, Norwich and the coast.
Holt
A few miles inland from the coast, this self-contained north Norfolk market town punches well above its weight in terms of facilities and provides convenient, easy access to the Norfolk coast.
East Dereham
About as central as it gets in the county, Dereham provides easy access to the whole of Norfolk and the town has plenty of historical interest in its own right.
Snettisham
Nicely situated between King's Lynn and Hunstanton in northwest Norfolk, this characterful carrstone village is just a mile or two from the shore of the Wash and a stone's throw from the Peddars Way.
Norwich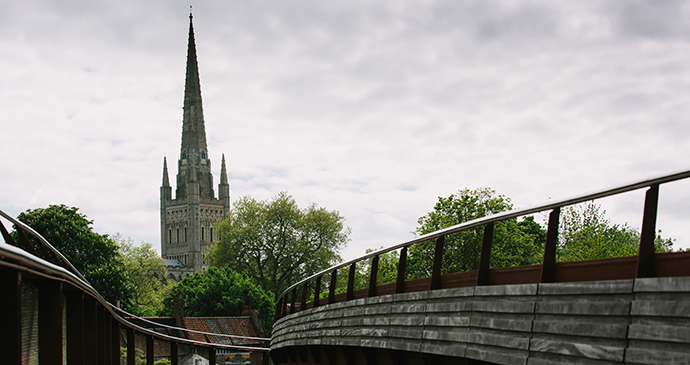 Norwich Cathedral is one of the city's highlights © Visit Norfolk 
For those wanting a more urban base, Norfolk's capital is a fascinating destination in its own right, for centuries the second largest city in England, with a fine Norman castle and cathedral, and more pubs, restaurants and cafés than you could ever wish for.
Diss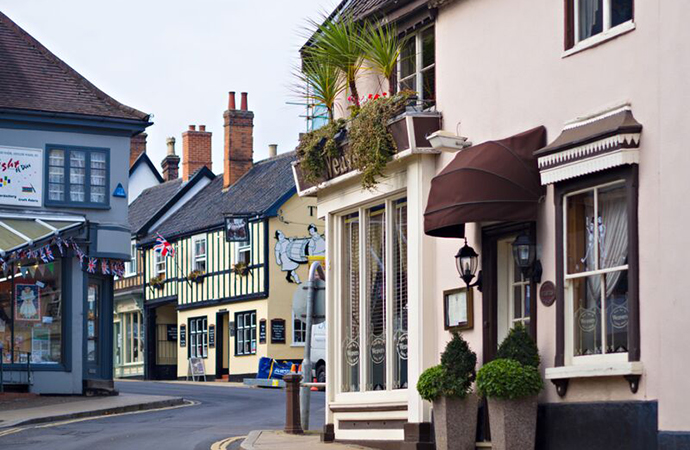 Diss is the ideal base for exploring around the Norfolk and Suffolk border © Duncan Kerridge Photography 
Norfolk's other Slow town, situated at the western end of the Waveney Valley, this is the ideal base for exploration either side of the Norfolk/Suffolk county divide.
Swaffham
This attractive market town between East Dereham and King's Lynn is well situated for exploring the Brecks as well as the coast and hinterland of northwest Norfolk.
Getting there and around
Below is a brief overview and suggestions of how to reach Norfolk from other parts of the country. Traveline south east & anglia is a useful website for planning journeys by bus or train, or a combination of the two.
By train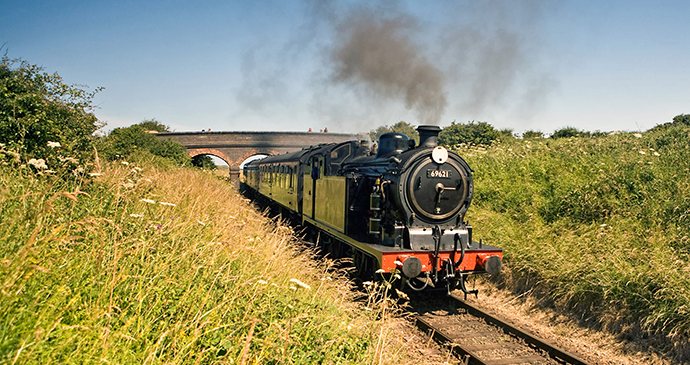 Heritage railways make for an interesting way to travel throughout Norfolk © Norfolk Coast Partnership 
There are regular rail services between Norwich and Great Yarmouth, Norwich and Cromer and Norwich and Thetford. Norwich is connected to London by direct trains from Liverpool Street station and to the Midlands and North by means of a change at Peterborough or Ely. Direct trains that stop at Manchester, Sheffield, Derby and Nottingham also run between Norwich and Liverpool.
King's Lynn can be reached by direct trains from London via Cambridge and Ely. Within Norfolk, there are also short preserved heritage railways like the Mid-Norfolk Railway between Wymondham and East Dereham, and the North Norfolk Railway between Sheringham and Holt, as well as narrow gauge lines that connect Wells with Walsingham and Wroxham with Aylsham.
By bus & coach
Norwich has regular long-distance coach services with National Express that connect the city with London, the major airports and other cities around the country. Several different bus companies provide routes within the county, most notably First in Norfolk & Suffolk, Konectbus, Stagecoach, Anglian Bus and Sanders Coaches.
Walking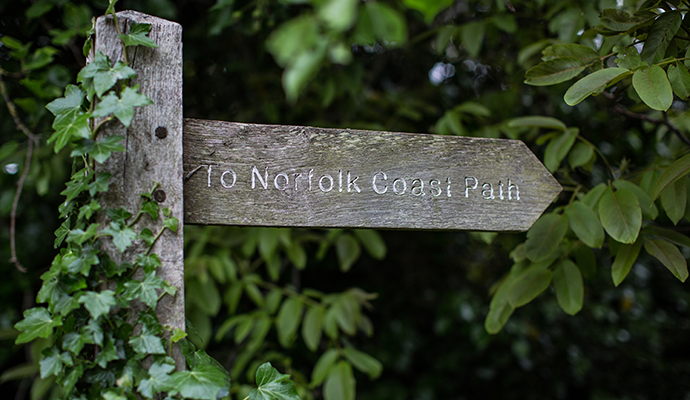 The North Norfolk Coast Path runs all the way from Holme-next-the-Sea to Cromer © Andy Davison
Norfolk abounds with walking potential, from linear coastal strolls to circular walks through forest and open farmland. Walking in Norfolk is rarely very demanding thanks to the reasonably flat topography. The going is mostly easy and so walkers just need to decide how far they are prepared to walk if attempting a route. Any obstacles, such as they are, are limited to nuisances like overgrown nettles, hungry mosquitoes, obstructing herds of cows or the occasional recalcitrant bull. Otherwise, it's ideal, especially when a walk takes in a country pub and/or an interesting village church to explore en route.
Several notable long-distance paths run through the county. The best known of these is the Peddars Way between Knettishall Heath near Thetford and Holme-next-the-Sea close to Hunstanton. This route connects with the Norfolk Coast Path to continue to Cromer and beyond. Cromer is also the start of the Weavers' Way, which meanders through the Broads to finish at Great Yarmouth, where another route, the Angles Way leads back to Thetford using paths on both sides of the River Waveney and the Norfolk–Suffolk border.
As well as these routes that combine together to effectively circumambulate the county there is another succession of routes – Wherryman's Way, Marriott's Way, Wensum Way and Nar Valley Way that connect together to pass through the middle of Norfolk linking Great Yarmouth with King's Lynn. Lesser routes in the county include the Tas Valley Way, Boudicca Way and Kett's Country, all in south Norfolk, and the Paston Wayin the Broads. For a useful overview of the various walking options in Norfolk on offer consult the Norfolk Trails website.
Cycling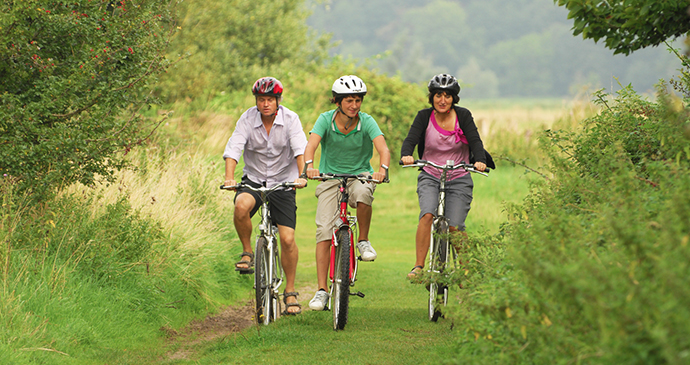 The Norfolk Broads offer plenty of scope for off-road cycling © Broads Authority
Norfolk has plenty to offer cyclists, from quiet country lanes and disused railway lines to off-road routes that follow bridleways and forest tracks. The Cycle Route website has many good suggestions for routes in the county. For off-road cycling probably the best part of the county to head for the Brecks where a large number of routes crisscross Thetford Forest.