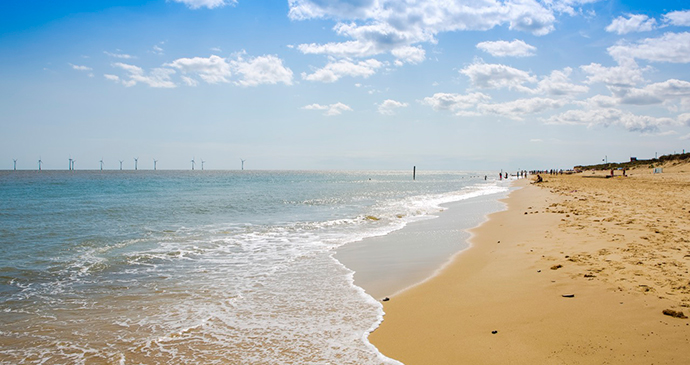 Caister-on-Sea, near Great Yarmouth, has an excellent sandy beach © Greater Yarmouth Tourism

An uncomplicated, calming landscape of sand, slate-grey sea, pebble banks and dunes, set against a backdrop of fields of grazing cattle and great swathes of sugar beet and barley.
East of Cromer, the north Norfolk coast curves gently southeast towards Great Yarmouth and the border with Suffolk. The coast here is less spectacular than that further west but provides locals with pleasant spots for dog walking and fishing, as well as sunbathing and swimming in the summer months when the wind drops.
Thousands of hedgerows were enthusiastically grubbed out in this part of the county back in the 1960s but, that said, even some of the larger expanses of grain seen inland from the coast are a far cry in scale from the geometric prairies in the Fens further west.
With quiet, old-fashioned villages like Overstrand and Mundesley, along with the slightly more bucket-and-spade atmosphere of places like Sea Palling, Norfolk's northeast coast is likeable but it's hardly superdistinctive. Nevertheless, its safe sandy beaches and marram-grass covered dunes make for great places for young families to potter about.
The villages that punctuate this stretch of the coast have little of the cosmopolitan gloss of places like Blakeney or Burnham Market in northwest Norfolk, but there are enjoyable corners: this is workaday Norfolk, and there are far fewer incomers and second home owners than elsewhere in the county.
The timber groynes that push out to sea along the length of this shoreline – sometimes mysteriously erased from view by the frequent sea mists – give a clue to the nature of the coastline in these parts. West of Cromer, it is a landscape in the making, with transported sand creating spits and extensive off shore sands. Here, it is one of occasionally brutal erosion. Dotted sporadically along this stretch of coast are houses perched precariously on the edges of crumbling cliffs, with livelihoods hanging in the balance as the North Sea threatens to breach dunes and sea walls to flood valuable farmland. Measures to slow down the rate of coastal nibbling by the sea are hugely costly and ultimately don't often solve the problem. This can be hard to explain to those whose lives have always been based here.