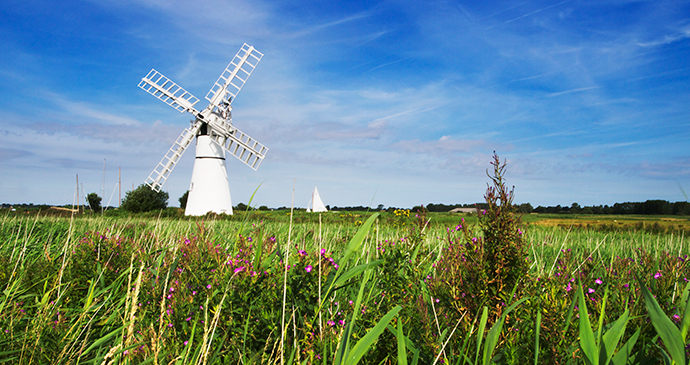 Many windmills can be found in the Broads area, such as this one at Thurne © Broads Authority
The Broads are the one place that everyone associates with Norfolk.
Just inland from the coast is an area that really could not belong anywhere else in the country. The Broads dominate the landscape south of the small market town of Stalham: a sprawl of inland lakes linked by the River Bure and the shallow but navigable tributaries of the Thurne and Ant. Another collection of broads lies further south, east of Norwich along the River Yare, while a few more can be found across the border in Suffolk. They are all generally referred to as 'The Norfolk Broads'.
These sparkling bodies of water, previously assumed to be natural phenomena, were only proved to be manmade in the early 1960s, when research by Dr Joyce Lambert, a botanist, revealed that they had originally been medieval peat diggings that had become flooded over the centuries.
With unique wildlife and landscape, and 28 Sites of Special Scientific Interest (SSSI) and nine National Nature Reserves within their boundary, the Broads have been awarded national park status, with the Broads Authority responsible for the area's management since its establishment in 1989.
The Broads are the one place that everyone associates with Norfolk (even though part of the area overlaps into Suffolk). Even David Bowie has made mention of them in one of his songs, although he was singing about 'Life on Mars' at the time. He also mentioned Ibiza in the same line, which hints at the frenzy that some parts of the Broads experience in high summer. At this time of year, the 'tourist honeypot' principle is amply demonstrated in the streets of Hoveton, where wannabe ship captains from the Midlands crowd the pavements, and Potter Heigham's medieval bridge has a lengthy tailback of floating gin palaces queuing to pass underneath. But this is just one face of the Broads; the other is a serene, watery wonderland of windmills, dykes and reed beds so rich with butterflies, dragonflies and exotic looking birds that it can feel almost tropical. It very much depends where you go … and when.
Not surprisingly, the busiest part of the Broads is around the boat hire centres – Wroxham, Hoveton and Ranworth Broads, and the River Thurne around Potter Heigham. Far quieter and more rewarding for landscape and wildlife are Barton, Cockshoot and Hickling Broads, the latter two having boarded walkways and water trails.
How Hill near Ludham has special activities for children and a delightful walking trail through grazing marshes and woodland, and standing at a towering 40 feet above sea level, the highest point for miles, also offers one of the best panoramas in the area. It is also one of the most reliable places to see swallowtail butterflies around midsummer. Another excellent place for an overview of the Broads is the tower of Ranworth Church.