Going Slow in Norfolk
Norfolk is littered with villages but uncluttered by towns.
Reginald Pound, author of Scott of the Antarctic
Why Slow Norfolk? Surely the county is 'slow' enough already? What is so special about this part of eastern England? Well, for a start, the county was largely bypassed by the Industrial Revolution.
This is not to say it had no part to play in shaping England's history – far from it – it is just that Norfolk tended to have more political and economic clout back in medieval times rather than it has over the last few hundred years. It may be hard to believe but back in the 16th century Norfolk was the most densely populated county in all Britain; nowadays, the county has the tenth lowest population density in the country. Norwich, Norfolk's capital, was once the second largest city in England; now it ranks as 26th. Clearly, much has changed since medieval times but Norfolk's history has quite a tale to tell.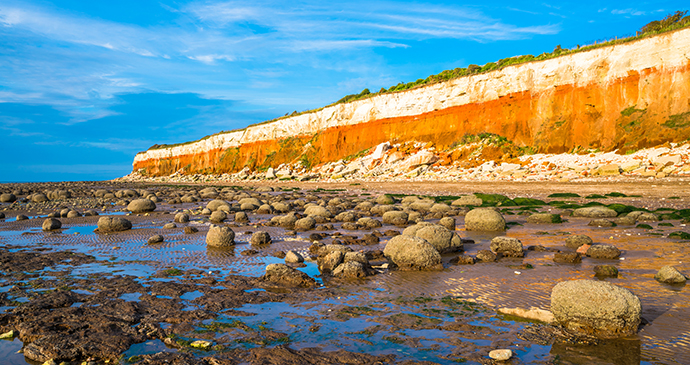 The cliffs at Hunstanton on the north Norfolk coast © BBA Photography, Shutterstock
Norfolk is highly distinguished in terms of geography, too, and more varied than most first-time visitors imagine it to be. In fact, there is much to contradict the perceived wisdom that the entire county is as flat as the proverbial pancake. As well as the lustrous lakes, reed beds and waterways of the Broads, and the straight-as-a-die channels of the Fen region, Norfolk also has the forests and dry, sandy expanses of the Brecks and, perhaps best of all, the wonderful north Norfolk coast with its shingle banks, salt marshes, tidal creeks and vast sandy beaches.
Connecting these quite disparate landscapes is a countryside filled with rolling farmland, tracts of ancient woodland, meandering rivers and hundreds of villages, each with its church. Perhaps it is such a wealth of villages that make the county what it is, each one of them a self-contained microcosm of rural life.
But there are towns too, and by and large they are also handsome and distinctive. As a rule, the built landscape reflects that which is found immediately beneath the surface: in the east of the county, thatch roofs and flint walls prevail; in the west, carrstone and chalk.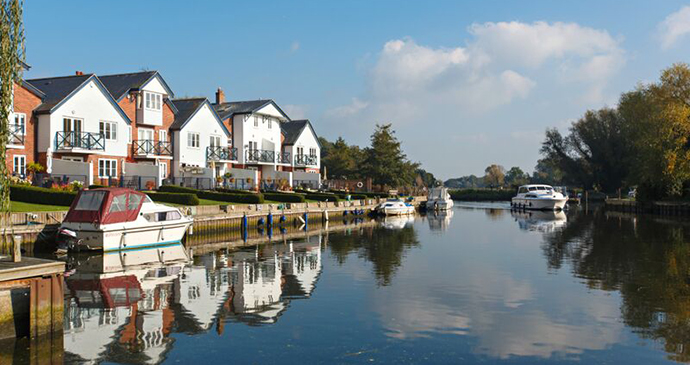 Loddon, one of the county's picturesque towns © Duncan Kerridge Photography
Similarly, land use also depends on the soil and drainage of the area: the fertile black soil in the Fens of the west, the arable crops that thrive on the light land of north Norfolk, the sheep and cattle that predominate on the heavy clays of the south, and swathes of conifer forestry in the Brecks where sheep ranges and rabbit warrens once used to abound.
There is a common contention that Norfolk is forever a step behind the rest of the country; that it lies out on a limb at the end of a road to nowhere. And there is still sometimes a slightly sneering metropolitan view that the county is nice enough to visit but 'you wouldn't want to live there.' As for the people who do live here, 'Normal for Norfolk' remains a common jibe. It's good to see this expression being deconstructed and adopted in a non-pejorative sense as a slogan by World Class Norfolk, an enterprise that promotes business investment in the county.
Of course, the fact that Norfolk remains one of the few English counties without a motorway leading to it may be seen as an obstacle to progress by some. Others, though, see this as a virtue. Motorways and 'Slow' are not generally ideal partners.
Author's story
An appreciation of the subtle beauty of rural East Anglia depends on having an eye for detail and a fondness for the drama of small events.
I first came to Norfolk four decades ago to attend university. I went away for a year or two but I have pretty well based myself here since then, mostly in Norwich but also for a few years in south Norfolk. It has been a slow burn of appreciation. To be honest, it took a while for the subtle charms of the region to grow on me.
Birdwatching on the north Norfolk coast and in the Broads got me out and about in the region, as did a bit of cycling around my own patch in Norwich and south Norfolk. Then, in the mid 1980s, I got a job as team leader on a project that was carrying out an extensive survey of farm buildings and agricultural practices in Norfolk.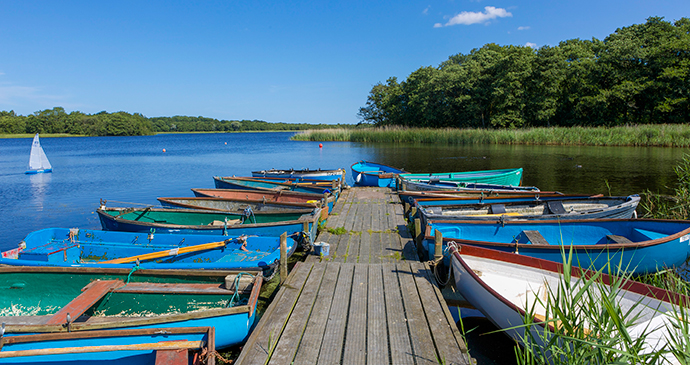 The Broads are one of Norfolk's most iconic landscapes © Greater Yarmouth Tourism
This got me interested in vernacular architecture and the way that the rural landscape had been shaped by farming and feudalism. I interviewed many north Norfolk farmers as part of this work and some of these were just old enough to remember working with horses. Even just 30 years ago, things were different. Large-scale agribusiness had not taken such a firm hold and the majority of the farms were family-run, 200-acre affairs that, besides mechanisation, were not managed all that differently from the way they had been in the inter-war period.
Memories of many of the farms I visited have blurred with the passing of time but I vividly recall one small and rather old-fashioned place near North Walsham, more of a large smallholding than anything else, which was lovingly farmed by a wonderful old couple.
After I had looked around and made my notes, the farmer gave me a mug of tea and took me to one side, 'Some people might cart right across the world looking for beautiful scenery but we are blessed, we've got it right here.' He gazed across a dung-covered farmyard alive with feeding swallows, past a rickety old barn to the fields beyond. 'Have a look at that view, will you? Have you ever seen anything better than that? Me and the missus never go on holiday and we've never been abroad either. What's the point when you've got all this on your doorstep?' I didn't have the slightest doubt about his sincerity – and he was absolutely right, it was a lovely view in a bucolic, John Constable sort of way. He was a wise and happy man, this old farmer; perhaps the perfect ambassador of what the Slow outlook is all about.
Hamish Fulton, whose art results from the experience of walking, once staged an exhibition entitled 'An Object Cannot Compete with an Experience'. It's a mantra that stands me in good stead. The Slow movement is all about savouring the moment.
A good meal taken slowly is an experience, so is a long walk with never-to-be forgotten views. So is a conversation that gives you an insight into someone else's life and celebrates a shared humanity. It's about a sense of being where you are, what makes it special, what makes it unique.
While I was researching the first edition of this book, I was fortunate to attend a talk by the writer Richard Mabey who was discussing the paintings of Mary Newcomb, a recently deceased local artist whose works were on display in a special exhibition at Norwich Castle Museum. Mary Newcomb's gloriously naive, almost Zen-like, paintings, along with Richard Mabey's insightful appraisal, helped me realise that an appreciation of the subtle beauty of rural East Anglia depends on having an eye for detail and a fondness for the drama of small events.
Perhaps that is what the essence of Slow is finding the extraordinary in the commonplace – that which makes a place distinctive, the unique patina of time and custom that makes somewhere special.
Everywhere has these qualities to some extent; it is just that, in terms of distinctiveness, Norfolk probably has more than its fair share. Let's not get carried away, there are places here as humdrum as anywhere else but the thing to dois to scrape away the veneer a little and see what is beneath.