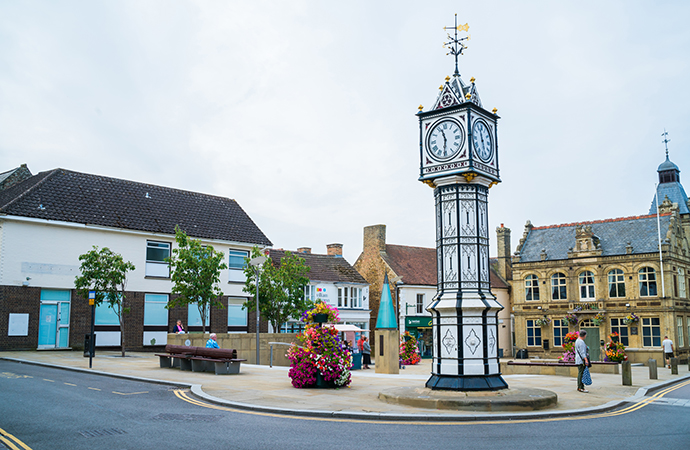 The old-fashioned market town of Downham Market is well known for its iconic clock tower © BBA Photography, Shutterstock
The slow pace of life here quickens only marginally in its urban centres.
As you head west along the north Norfolk coast, it turns south just before the resort of Hunstanton and with a change of direction, comes a change of character. Instead of vast expanses of salt marshes, pebble cottages and silted medieval harbours we find ourselves in a zone of sandy beaches and low dunes, stone-banded cliff s and low chalk ridges inland.
The coast runs down as far as King's Lynn, which once had a far more important place in the scheme of things than it has today but, there again, so did Norfolk as a whole.
It may seem strange to witness the sun setting out to sea – this is East Anglia after all. But the realisation that the Wash is just a rather wide inlet will come when, in fine weather, you see the wind turbines on the far Lincolnshire shore, or, on a very clear day, catch a glimpse of the 'Boston Stump', the improbably tall tower of Boston's St Botolph's Church. The Wash's beaches attract both holiday makers and wildfowl, with buckets, spades and suntan oil out in force at Snettisham in the summer months, and geese, ducks and waders feasting on the tidal mudflats and sandbanks off shore in winter.
Inland from the coast it is a different picture, with low chalk hills, quietly attractive carrstone and chalk-built villages like Ringstead and lush pasture with scattered patches of woodland.
Further inland still and you edge into the light soils of what's sometimes termed as High Norfolk – the agricultural landscape of north Norfolk enclosure, with its hedgerows and woodland copses.
The slow pace of life here quickens only marginally in its urban centres, old-fashioned market towns like Swaffham and Downham Market that lie on the edge of this region and give way to Breckland and the Fens respectively. On the whole though, smaller villages like Great Bircham and Great Massingham, both far from 'great', are generally more typical of this ultra-rural corner of the county.
This is estate country too, with Sandringham, the Royal family's country retreat, being the prime example. The hall at Houghton is even more impressive and one of the finest country houses in East Anglia.
King's Lynn, once a thriving port, is central to the area and although it may seem unprepossessing on arrival, has a concentration of intriguing distractions centred around its historic core. South and west of here lie the spectacularly contour-free, drained arable region of the Fens, often associated with Norfolk but really far more typical of Cambridgeshire and south Lincolnshire than Norfolk as a whole.
The Fens are not to everyone's taste, but have huge wide skies and distant horizons that are unsullied by anything as presumptuous as a hill or even a contour. Lines of straight poplars stretch into the distance like a French impressionist painting; pylons recede to vanishing point – you can almost sense the curvature of the earth.
The Peddars Way runs arrow-straight across this area, beginning uncertainly – or rather, ill-defined – in the heathland at Knettishall near Thetford but gaining confidence, and a more obvious surface, as it progresses through Castle Acre across the heathland and chalk ridges of west Norfolk to terminate at Holme-next-the-Sea. Such a linear, determined route suggests a Roman origin, and it was constructed as a military thoroughfare in their campaign to pacify Norfolk's warring Iceni tribes.
When the Romans finally removed their sandals from these shores and high-tailed it back to Rome in time for the fall of their empire, the route came into its own as a thoroughfare for peddlers, thieves, drovers and pilgrims. There again, the route may well be even older – an extension of the undeniably ancient Icknield Way that was remodeled by road-mad Romans shortly after they arrived.